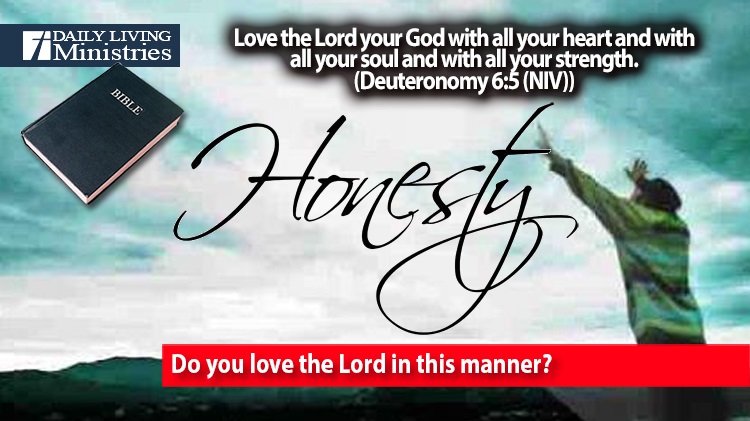 Be Still . . .
Devotionals for Daily Living ©
Love the Lord your God with all your heart and with all your soul and with all your strength.
(Deuteronomy 6:5 (NIV))
When was the last time that you gave one hundred percent to something that you cared about?
What is the one thing that you find that you can't live without?
Are you ashamed to admit what these are?
Every single one of us has something that we make a priority in our lives. Some people live to work. Others are fixated on gadgets and gizmos. Some people collect guitars. Some collect baseball cards. Some people spend every waking moment plotting and scheming on how to get rich. Let's face the truth of our sinful human nature. What we give ourselves to is often based on selfish motives, but have you ever decided to make the Lord a priority? Have you made Him your top priority?
What if we gave the Lord the same amount of attention and devotion that we give to the things of this world that we love?
Can you imagine the unintended consequences of such love and devotion?
However, as it is written:
"What no eye has seen,
      what no ear has heard,
and what no human mind has conceived" —
      the things God has prepared for those who love him—
(1 Corinthians 2:9 (NIV))
All of this is added to the gift of grace that He freely gave because of His love for us.
For God so loved the world that he gave his one and only Son, that whoever believes in him shall not perish but have eternal life.
(John 3:16 (NIV))
For this alone we should be fully devoted to the Lord for He has saved us from the consequences of our sinful nature.
We love because he first loved us.
(1 John 4:19 (NIV))
Do you love the Lord in this manner?
Copyright 1998 – 2021 Dennis J. Smock
Daily Living Ministries, Inc.
http://www.dailylivingministries.org
Support Daily Living Ministries
Subscribe to daily email delivery
Visit us on facebook