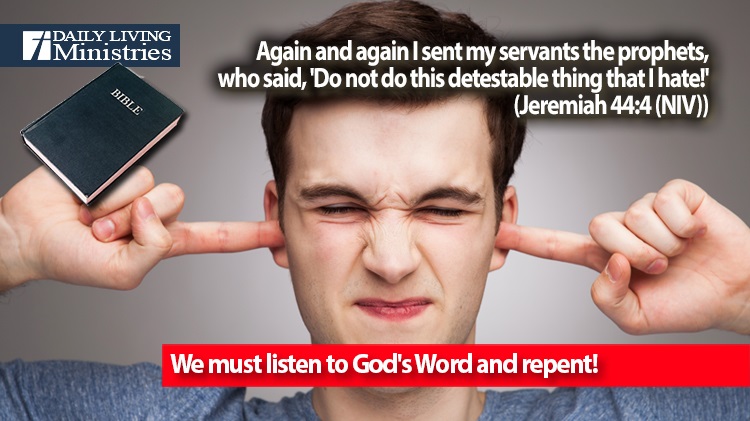 Be Still . . .
Devotionals for Daily Living ©
Again and again I sent my servants the prophets, who said, 'Do not do this detestable thing that I hate!'
(Jeremiah 44:4 (NIV))
The Lord spoke through Jeremiah and all of the other prophets and nobody listened. Is the Lord speaking to us today through His prophets? If so, have we become too jaded by our so-called intellectual superiority that we find ourselves doing the very same thing that was done by the people that God sent the prophets to? Do we keep doing the detestable thing that God hates? Can we even recognize when someone speaks God's truth, or have we become so engrossed in our selfishness, ego and pride that we don't even know His truth when it is right in front of us?
Do we, do you, look to Jesus?
Jesus answered, "I am the way and the truth and the life. No one comes to the Father except through me.
(John 14:6 (NIV))
Have we become so comfortable in our faith in Jesus that we start slacking in our attention to His truth? Do we take our salvation for granted and assume that all is forgiven even if we continue to sin? Have we forgotten how to repent?
Think about that last question!
God sent the prophets to Israel when they started to fall away. Some people still thought that they were being faithful, but they still worshipped false gods. We profess a faith in Jesus, yet, do we worship false gods such as wealth, power, prestige, and personal choice? Aren't these the very reasons that the Lord sent His prophets to call the people to repentance?
Are we missing His prophets today? Have we believed the lie that God doesn't speak to us through His prophets anymore because that was an Old Testament practice? What about a New Testament passage that says He still gives us prophets?
And he gave some, apostles; and some, prophets; and some, evangelists; and some, pastors and teachers;
(Ephesians 4:11 (NIV))
Is there someone in the world today that speaks God's truth for this very moment in time? Is there someone in your life that speaks God's truth into your life in such a way that you change directions, that you repent? Are you comfortable hearing from God and calling people to repentance?
We must listen to God's Word and repent!
Copyright 1998 – 2022 Dennis J. Smock
Daily Living Ministries, Inc.
http://www.dailylivingministries.org
Support Daily Living Ministries
Subscribe to daily email delivery
Visit us on facebook