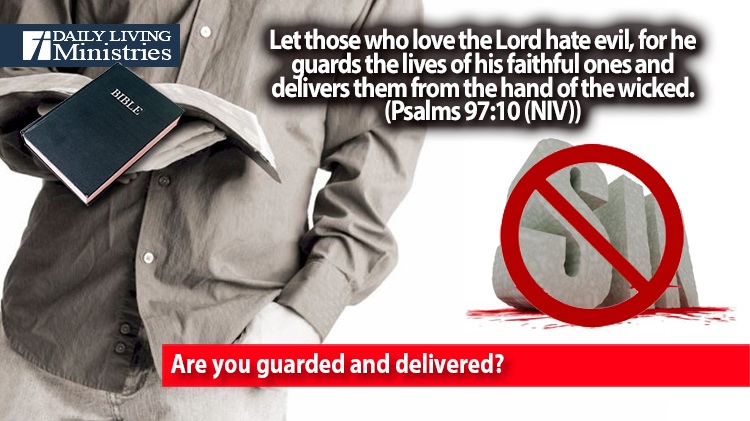 Be Still . . .
Devotionals for Daily Living ©
Let those who love the Lord hate evil, for he guards the lives of his faithful ones and delivers them from the hand of the wicked.
(Psalms 97:10 (NIV))
Do you truly love the Lord?
Based on this passage, perhaps I need to ask this another way. Do you truly hate evil?
I think that it is safe to say that we have all known someone who claims to love the Lord, but they don't act like it? They give lip service, but their actions say otherwise. They seem to embrace their own personal sins and only occasionally stop to think about the Lord. Do they ever stop to think about their actions and how their actions break the very heart of God? Perhaps this rebellious trait goes all the way back to Adam and Eve. Perhaps it even goes back to the rebellion of Satan and the fact that he wanted to be God. He simply took Adam and Eve, and consequently all of humanity, down with him.
In essence, evil is anything that goes against the very nature, the very essence, the very fruit of God.
But the fruit of the Spirit is love, joy, peace, forbearance, kindness, goodness, faithfulness, gentleness and self-control. Against such things there is no law.
(Galatians 5:22-23 (NIV))
If we are told that these are characteristics that we are to possess, then anything that goes against these traits is what God calls evil.
The acts of the flesh are obvious: sexual immorality, impurity and debauchery; idolatry and witchcraft; hatred, discord, jealousy, fits of rage, selfish ambition, dissensions, factions and envy; drunkenness, orgies, and the like. I warn you, as I did before, that those who live like this will not inherit the kingdom of God.
(Galatians 5:19-21 (NIV))
If we profess to love the Lord, then we are to love the things that He loves. We are to walk in the ways that reflect what He loves. We are to guard our hearts and minds so that the things that the Lord calls evil do not have any way to infiltrate our lives. If we choose to walk in His light, we are to hate the darkness of evil.
This is the message we have heard from him and declare to you: God is light; in him there is no darkness at all. If we claim to have fellowship with him and yet walk in the darkness, we lie and do not live out the truth. But if we walk in the light, as he is in the light, we have fellowship with one another, and the blood of Jesus, his Son, purifies us from all sin.
(1 John 1:5-7 (NIV))
And the peace of God, which transcends all understanding, will guard your hearts and your minds in Christ Jesus.
(Philippians 4:7 (NIV))
Are you guarded and delivered?
Copyright 1998 – 2021 Dennis J. Smock
Daily Living Ministries, Inc.
http://www.dailylivingministries.org
Support Daily Living Ministries
Subscribe to daily email delivery
Visit us on facebook