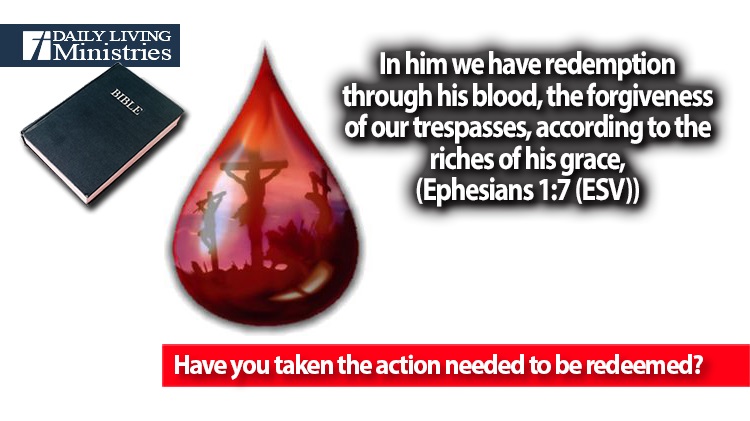 Be Still . . .
Devotionals for Daily Living ©
In him we have redemption through his blood, the forgiveness of our trespasses, according to the riches of his grace,
(Ephesians 1:7 (ESV))
Have you ever stopped to look up a dictionary's definition of redemption or what it means to be redeemed? According to Merriam-Webster, the word "redeeming" means serving to offset or compensate for a defect. With that definition in mind, then it is safe to say that redemption indicates that we have had something done for us that has been done to compensate for a defect. All of humanity suffers from this same defect as a result of the fall from grace in the Garden of Eden. Our defect is sin!
for all have sinned and fall short of the glory of God,
(Romans 3:23 (NIV))
We all need something to compensate for, to offset the sinful nature that we are born with. Redemption is a legal process that requires an exchange. There must be someone with the authority to make the offer of redemption, and, once that offer is made, it requires action on the part of the one being redeemed. The offer was extended by the ultimate authority. It was extended by the Creator of everything. It was extended to sinful humanity by God!
For God so loved the world that he gave his one and only Son, that whoever believes in him shall not perish but have eternal life. For God did not send his Son into the world to condemn the world, but to save the world through him. Whoever believes in him is not condemned, but whoever does not believe stands condemned already because they have not believed in the name of God's one and only Son.
(John 3:16-18 (NIV))
Our response, our reaction is simple. All that we have to do is accept! It is as easy as ABC.
A is admit that you are a sinner in need of a Savior.
B is for believe in your heart that Jesus Christ died for your sins, was buried, and that God raised Him from the dead.
C is for call upon the name of the Lord Jesus.
Once you have made this decision, once you have professed these truths, once you have accepted the free gift of God's grace, then you have been redeemed. You have been washed white as snow. Your sins will be removed as far as the east is from the west. You will have been bought by the blood of the Lamb!
Have you taken the action needed to be redeemed?
Copyright 1998 – 2022 Dennis J. Smock
Daily Living Ministries, Inc.
https://www.dailylivingministries.org
Support Daily Living Ministries
Subscribe to daily email delivery
Visit us on facebook