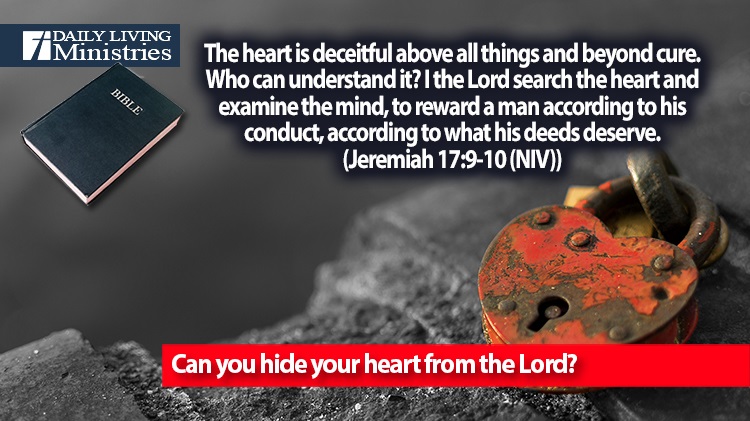 Be Still . . .
Devotionals for Daily Living ©
The heart is deceitful above all things and beyond cure. Who can understand it? I the Lord search the heart and examine the mind, to reward a man according to his conduct, according to what his deeds deserve.
(Jeremiah 17:9-10 (NIV))
It is human nature to try to hide what is really in your heart. People put up facades that they use to hide what they truly are. We may have each other fooled, but there is no way that we can fool God!
What is in your heart will surface when you are all alone, or when you think that those who know you will not see your actions. God sees everything! He also knows what is in your heart. He knows your thoughts before you can finish thinking them. We cannot fool God into thinking we are what our facade presents. He knows us better than we know ourselves!
Carefully consider this concept. Imagine having someone with you 24/7. What would your actions be like? What would you focus on if you knew that someone could read your mind? Now, accept that reality in the presence of God. He knows our every thought. He knows our innermost desires.
Can you honestly say that your heart does not entice you into unrighteousness when you are not around others? Would you think, say or do these things if someone were with you? Remember when you asked Jesus into your heart. You invited Him in to take up a full-time residence and to guide you. He sent the Holy Spirit to be your counselor.
Can you hide your heart from the Lord?
Copyright 1998 – 2021 Dennis J. Smock
Daily Living Ministries, Inc.
http://www.dailylivingministries.org
Support Daily Living Ministries
Subscribe to daily email delivery
Visit us on facebook