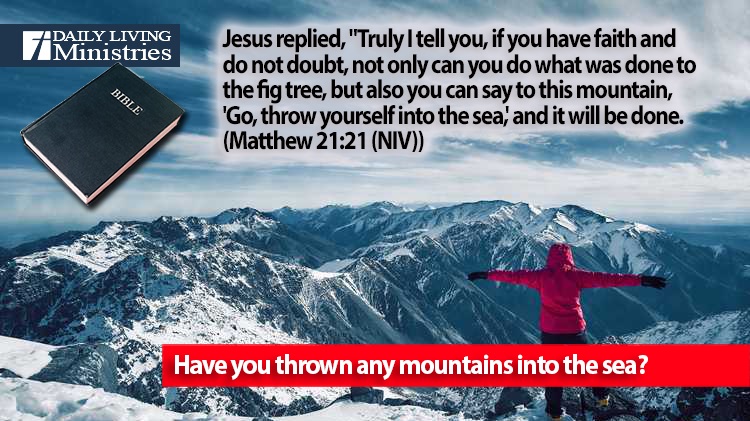 Be Still . . .
Devotionals for Daily Living ©
Jesus replied, "Truly I tell you, if you have faith and do not doubt, not only can you do what was done to the fig tree, but also you can say to this mountain, 'Go, throw yourself into the sea,' and it will be done.
(Matthew 21:21 (NIV))
Every believer reads this passage and secretly wishes that they had a faith this strong. Far too many of us read this and get hung up on the laws of physics and the physical improbability of something like this happening, but we forget to take into consideration one important fact.
We profess a faith in Jesus!
He was crucified, dead and was buried. He was then resurrected on the third day and now sits at the right hand of God the Father. If we profess a faith in someone who has accomplished the ultimate physical impossibility, why do we ever doubt anything else?
Let's take this one step further. I like to look at this in conjunction with this passage.
Very truly I tell you, whoever believes in me will do the works I have been doing, and they will do even greater things than these, because I am going to the Father.
(John 14:12 (NIV))
Exactly what works did Jesus do?
The blind receive sight, the lame walk, those who have leprosy are cleansed, the deaf hear, the dead are raised, and the good news is proclaimed to the poor.
(Matthew 11:5 (NIV))
Are you doing the works that Jesus did? If you profess a faith in Jesus as your personal Lord and Savior, you are supposed to be doing these. If you faith is strong enough to do these things, then it is strong enough to move mountains. All that you need to do is realize one important fact.
You, dear children, are from God and have overcome them, because the one who is in you is greater than the one who is in the world.
(1 John 4:4 (NIV))
With all of these scripture passages saying that if we have faith then we can do anything in His Name, I have but one question left to ask.
Have you thrown any mountains into the sea?
Copyright 1998 – 2023 Dennis J. Smock
Daily Living Ministries, Inc.
https://www.dailylivingministries.org
Support Daily Living Ministries
Subscribe to daily email delivery
Visit us on facebook