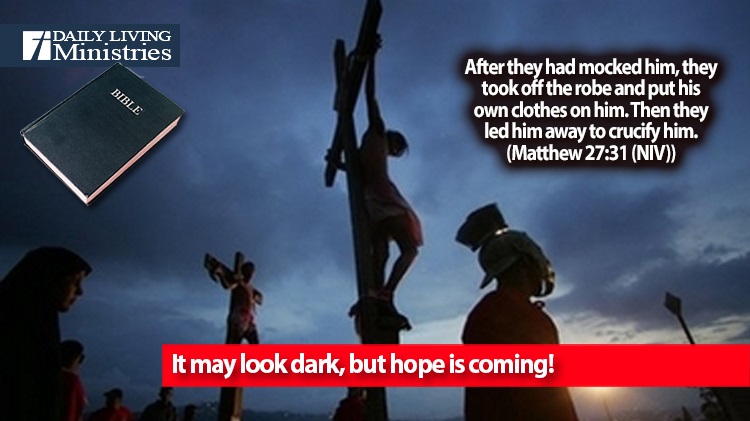 Be Still . . .
Devotionals for Daily Living ©
After they had mocked him, they took off the robe and put his own clothes on him. Then they led him away to crucify him.
(Matthew 27:31 (NIV))
The events of the long night and morning were over. Jesus had been arrested, beaten, falsely accused and judged, and then sentenced to die a horrible death. The only thing left of God's plan was the actual crucifixion. Think on those events as you read this, for many will be reading it at the time of day that things actually unfolded.
How are you spending your morning? Is it filled with reverence and thanks for what Jesus endured? As you pour yourself another cup of coffee, does the impact of Jesus' suffering bring you to tears or do you even think of it at all? As you head to that meeting, do you reflect upon just how things would be if Jesus had not had His meetings with Pontius Pilate? When you feel the burdens of the day come crashing in around you, do you stop to think of the burden that Jesus bore as He carried His cross?
It is so easy to get lost in the trivial details of our own lives. We think that they are so important. We think that if we don't close that next big sale, the world will fall apart. We think that if our children don't get into that private school, their lives are over. All that we bear is the burdens and sins from our own lives. Imagine having the weight of the sins of the world hoisted upon you. Imagine the world being so engrossed in the usual activities that your sacrifice becomes trivialized. Imagine taking on the burden anyway because you love the people of the world.
Stop to think just what Jesus went through so that you can have grace and salvation. Retrace His steps as He carries His cross to Calvary. Put yourself in His place as the nails pierced His hands. Imagine how He felt looking down through history as He looked upon you at this very moment in time. He suffered and died for you and I. He did it willingly so that we may have grace and mercy.
Spend the day embracing His sacrifice, feeling His pain and emotions. Look upon your life as He looked upon it. Jesus felt that His sacrifice was worth everything that He endured. He felt that you and I were worth whatever price He had to pay.
Today, Good Friday, stop and thank God for His Son, Jesus, and His willingness to go to the cross for you and I. This day is a day of agony and fear, but through the fear we have a shining ray of hope – the resurrection on Easter morning!
It may look dark, but hope is coming!
Copyright 1998 – 2021 Dennis J. Smock
Daily Living Ministries, Inc.
http://www.dailylivingministries.org
Support Daily Living Ministries
Subscribe to daily email delivery
Visit us on facebook