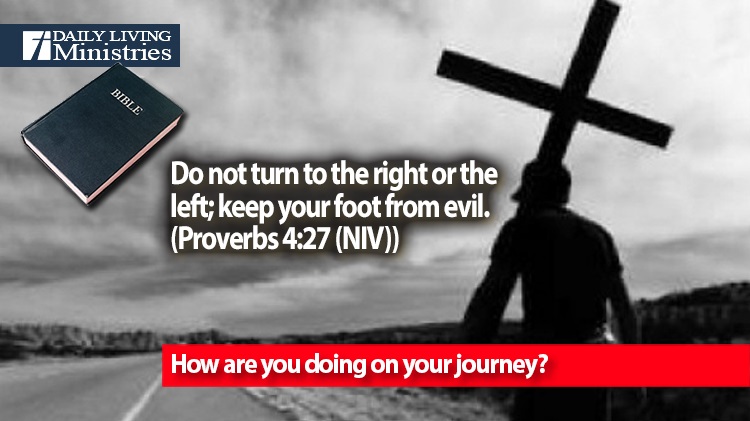 Be Still . . .
Devotionals for Daily Living ©
Do not turn to the right or the left; keep your foot from evil.
(Proverbs 4:27 (NIV))
How good are you at staying the course?
Let's take a look at that question as if you were going to the grocery store for milk and bread. How often are you sidetracked and find yourself buying much more than you went in for? How many times are you able to stay focused and get only what you had previously decided that you need? How often do these extra expenditures end up being for something that indulge your personal appetites and desires?
Do I dare to say that many of us approach our walk with Jesus in much the same way? We know that we want to follow Jesus but along the way we see things that indulge our personal appetites and sinful desires. If we are not careful, we soon find ourselves following those desires. We then find ourselves so far off of the path that we should be on that we don't know how we got there in the first place.
It takes constant corrections to maintain a course. It is not possible to reach any destination without making many corrections and adjustments, and that is if we follow the path that we have laid out before us. Even the straightest road and the best tire alignment will have you going off of the road if you do not make continual course corrections. Professing a faith in Jesus does not mean that everything will be perfect from that moment on, and that you will start off and have a smooth journey along the way. What it does mean is that a new destination has been selected and you are going down a road that will require some very serious course adjustments in order to reach your destination. Along your journey, the enemy will try to distract you, to tempt you to take a detour. We must be prepared to keep our eyes on Jesus and not to turn from the path that leads us to Him as our final destination.
It is a known fact that when someone focuses on one thing, the other things soon become less important. If we continually focus on Jesus, the distractions, the evil that is vying for our attention, will fade from our sight. We will know that it is there, but it will be a faded relic of what the enemy intended, for we have Jesus clearly within our vision. Human nature is interesting. We go in the direction that we see. If we are driving and take our eyes off of the road, we have a tendency to drive in that direction. The same thing is true spiritually. We go where we have placed our focus, where we have set our priority.
How are you doing on your journey?
Copyright 1998 – 2022 Dennis J. Smock
Daily Living Ministries, Inc.
http://www.dailylivingministries.org
Support Daily Living Ministries
Subscribe to daily email delivery
Visit us on facebook