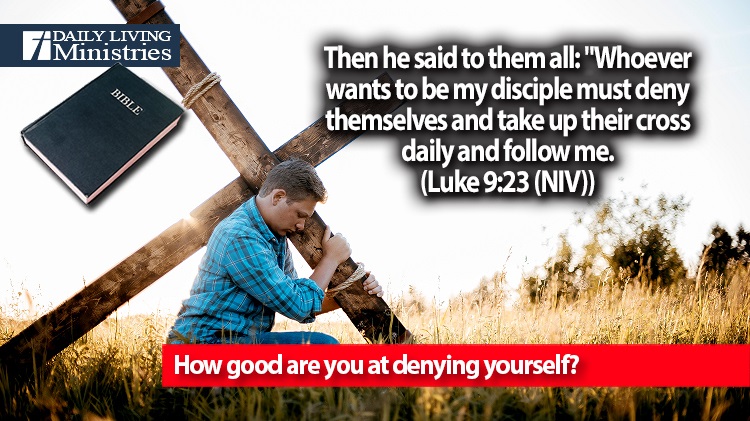 Be Still . . .
Devotionals for Daily Living ©
Then he said to them all: "Whoever wants to be my disciple must deny themselves and take up their cross daily and follow me.
(Luke 9:23 (NIV))
Everything has a cost!
It all comes down to what you are willing to do, what you are willing to pay in order to possess what you desire.
We think of this when we save for a down-payment on a house or a car. We think of this when we schedule a once in a lifetime trip. We think of this when we pursue a career, but have you truly thought of this concept as relevant when applied to following Jesus?
We should!
All of the things that we think of sacrificing for in this world are fleeting. Moth and rust will eventually take anything that we achieve and make it worthless, yet we spend so much time and effort on these things while we ignore the things that have eternal value. We think that following Jesus is easy. We think that following Jesus is something we do when all other things are completed. In other words, Jesus is not our priority. We should be willing to do as Jesus asked the rich young man.
Jesus answered, "If you want to be perfect, go, sell your possessions and give to the poor, and you will have treasure in heaven. Then come, follow me."
(Matthew 19:21 (NIV))
Sadly, too many of us respond in just the same way that the rich young man responded.
When the young man heard this, he went away sad, because he had great wealth.
(Matthew 19:22 (NIV))
We are not willing to give up our possessions and our priorities. We still focus on me, myself, and I. With that in mind, I want to ask you one simple question.
How good are you at denying yourself?
Copyright 1998 – 2022 Dennis J. Smock
Daily Living Ministries, Inc.
http://www.dailylivingministries.org
Support Daily Living Ministries
Subscribe to daily email delivery
Visit us on facebook