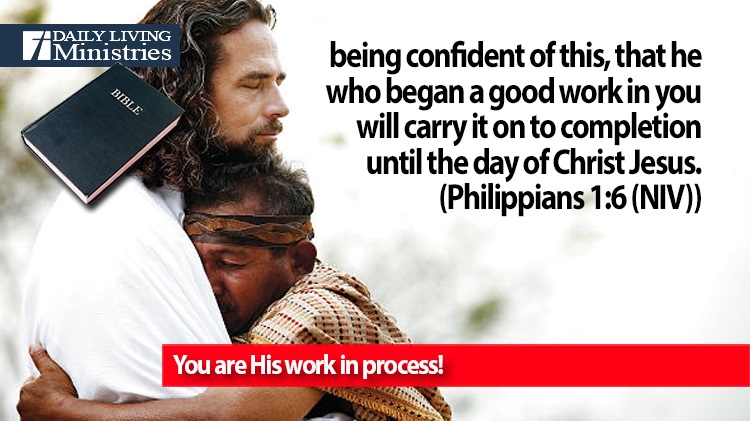 Be Still . . .
Devotionals for Daily Living ©
being confident of this, that he who began a good work in you will carry it on to completion until the day of Christ Jesus.
(Philippians 1:6 (NIV))
Is there anything that you have ever done that you did perfectly the very first time that you did it?
Let me ask a different question that poses a very similar type of response.
If you undertake something significant, do you finish it instantly? If you decide to learn how to play piano, do you sit down and immediately play the most beautiful and intricate composition ever? If you decide to learn how to draw and paint, do you immediately produce a work comparable to the Mona Lisa? If you choose to pursue a certain profession, do you simply open up a business saying that you are what you decided you were that morning?
Everything takes time!
In fact, there is a phrase that fits this quite well. Your piano playing capabilities are a work in process. Your artistic skills are a work in process. You professional skills are a work in process. You will never reach the full potential unless you stay actively in pursuit of the desired goal.
Why do we think that our spiritual walk of faith will not be a work in process?
Is your faith the same as the first day that you made that profession in Jesus as your personal Lord and Savior? Is your knowledge of God's Word the same as it was the very first time that you picked up a Bible? Is your outlook on sin the same as it was before you asked Jesus to save you from your sins?
Life is a learning process. Faith is a learning process. This learning process will see you walk through many things in your life with the hopeful outcome being one of maturity in your faith, maturity in your relationship with Jesus, and maturity in your daily walk with the Lord. Faith is often referred to a a journey. Did the disciples have the faith to take the Gospel into all the world when they first met Jesus? Did Paul know how to reach the Gentiles immediately after his Damascus Road experience? Even these people whom we look to as pillars of the faith did not start that way, but they were lead to maturity by the loving hand of the Lord and guided by the Holy Spirit.
Today, as we live our lives, we are being matured in our faith. When you realize that each day holds something that the Lord wants you to experience and learn, then you realize that He is not finished with you.
You are His work in process!
Copyright 1998 – 2023 Dennis J. Smock
Daily Living Ministries, Inc.
https://www.dailylivingministries.org
Support Daily Living Ministries
Subscribe to daily email delivery
Visit us on facebook