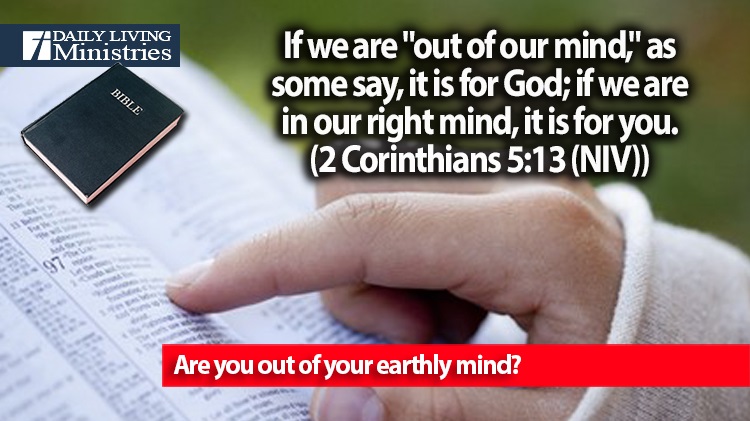 Be Still . . .
Devotionals for Daily Living ©
If we are "out of our mind," as some say, it is for God; if we are in our right mind, it is for you.
(2 Corinthians 5:13 (NIV))
Have you ever heard the expression, "They're out of their ever loving mind."?
Perhaps you prefer saying something like one of the following. One fry short of a happy meal. The elevator doesn't go all the way up. He has a few loose screws. Or, he doesn't have the sense that God gave him. But, no matter how you say it, the implications are that the person in question is crazy or even stupid.
If you profess a faith in Jesus as your personal Lord and Savior, then this is exactly how the world sees you! The world even calls us uneducated and ignorant. What is so ironically funny is that there are many believers who are just as educated according to worldly standards as those who make these claims.
Where do you claim to belong in this attack on the sanity of those who profess a faith in Jesus?
I don't know about you, but I love the words that Joshua spoke.
But if serving the Lord seems undesirable to you, then choose for yourselves this day whom you will serve, whether the gods your ancestors served beyond the Euphrates, or the gods of the Amorites, in whose land you are living. But as for me and my household, we will serve the Lord."
(Joshua 24:15 (NIV))
I don't care what the world thinks of me, for this world is not my home. I have been, and will continue to do what I am called to do to share my faith. At this present moment in time, the world thinks that they are right, but the Lord is patient. We must continue to be out of our minds in hopes of sharing the truth of the Gospel with those who are in need of a Savior before it is too late.
that at the name of Jesus every knee should bow,
     in heaven and on earth and under the earth,
and every tongue acknowledge that Jesus Christ is Lord,
     to the glory of God the Father.
(Philippians 2:10-11 (NIV))
We can profess Jesus now and be saved, or we can profess Jesus is Lord when it is too late. I don't know about you, but waiting until it is too late is the epitome of being out of your mind, but sadly, that is how the world thinks.
With that in mind, I have but one more question for you to consider.
Are you out of your earthly mind?
Copyright 1998 – 2023 Dennis J. Smock
Daily Living Ministries, Inc.
https://www.dailylivingministries.org
Support Daily Living Ministries
Subscribe to daily email delivery
Visit us on facebook