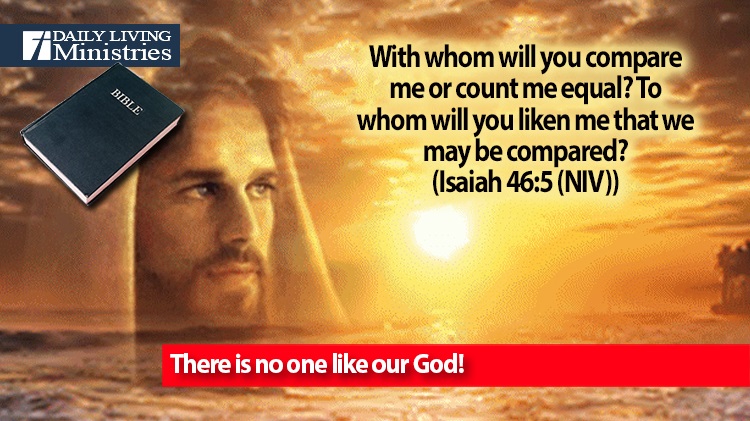 Be Still . . .
Devotionals for Daily Living ©
With whom will you compare me or count me equal? To whom will you liken me that we may be compared?
(Isaiah 46:5 (NIV))
Have you ever tried to fit God into your own image of Him, your own understanding of Him?
I know that we have all done something like this at one point in our lives, but if you truly think about this, then it sounds completely absurd. In essence, the creation attempted to re-create the Creator because the creation possessed a limited understanding of everything. As such, we want to make God into something that we can understand. If we fully understood, then He wouldn't be God. What we would have is an idol of our own creation. Sadly, that is what many people try to do.
Do we know how to hang the moon and stars? Do we know how to turn day into night? Do we know how to control the passage of time? Do we know how to bring the rains? Do we know how to part the seas? Do we know how to raise the dead? Do we know how to redeem a sinful, fallen humanity?
"For my thoughts are not your thoughts,
     neither are your ways my ways,"
declares the Lord.
(Isaiah 55:8 (NIV))
I am truly thankful that His thoughts and His ways are not like our thoughts and our ways. If we tried to make God to be like us, He wouldn't be God! We also would not have a Savior, for the god that we create to be like us would not have the power over sin and death.
Each one of us have a mental image of how we see God. Even though we profess a faith in Jesus as our personal Lord and Savior, our understanding is still very limited. We can pray. We can read God's word and study it our whole life, but when we see Him face to face, He will be so much more than we could ever imagine. Let go of the small gods that you have created. Stop trying to put God into your image of Him and fully embrace our Lord God for the majesty and glory that is His alone. Be prepared to be amazed for He alone is good. He alone is God.
There is no one like our God!
Copyright 1998 – 2022 Dennis J. Smock
Daily Living Ministries, Inc.
http://www.dailylivingministries.org
Support Daily Living Ministries
Subscribe to daily email delivery
Visit us on facebook