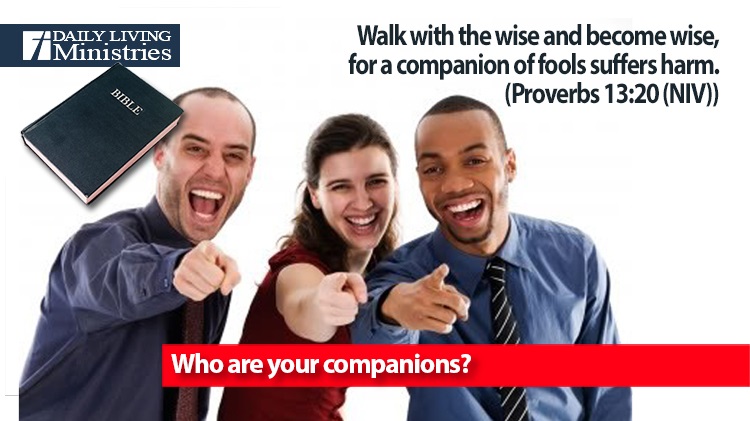 Be Still . . .
Devotionals for Daily Living ©
Walk with the wise and become wise, for a companion of fools suffers harm.
(Proverbs 13:20 (NIV))
There are many different ways to say this. Here are two of the many that I have heard in my life.
"If you lay down with dogs, you get up with fleas" paints a very vivid picture of what can and will happen simply by association.
"Garbage in, garbage out" is another one that comes to mind. This implies that what you put into your life is what you will get out of your life.
The concept is basically the same and has not changed since Solomon wrote his version. It relies on a very sad, but true, characteristic of human nature. We tend to pick up traits and characteristics from those with whom we associate. What is even sadder is that we tend to change our behavior based on who we are around at any given moment. If that is the sad truth of human nature, those who profess a faith in Jesus as their personal Lord and Savior must hold each other accountable!
And let us consider how we may spur one another on toward love and good deeds, not giving up meeting together, as some are in the habit of doing, but encouraging one another—and all the more as you see the Day approaching.
(Hebrews 10:24-25 (NIV))
Not only do we have an assignment to share the Gospel with those who do not believe, we are also called to encourage each other so that we can stand firm in our faith. When we gather together, we share a common belief and a common desire. This strengthens the human weakness that makes us pick up the traits of others. We then can walk out into the sinful, fallen world and hold fast to our faith. This also strengthens us and makes us able to deal with "fools" when we encounter them.
The fool says in his heart,
      "There is no God."
They are corrupt, their deeds are vile;
      there is no one who does good.
(Psalms 14:1 (NIV))
What do you consider wisdom?
Based on that answer, who do you consider to be wise?
Hopefully your answers point to Jesus and to those who seek to follow Jesus. If we take on the characteristics of those we are around, choose wisely. Godly wisdom and those who seek it will take you on a walk with the wise. We must learn to stay away from fools!
Who are your companions?
Copyright 1998 – 2021 Dennis J. Smock
Daily Living Ministries, Inc.
http://www.dailylivingministries.org
Support Daily Living Ministries
Subscribe to daily email delivery
Visit us on facebook