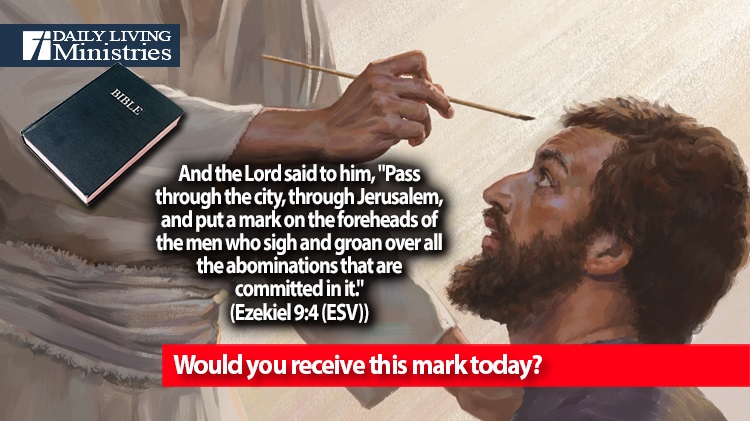 Be Still . . .
Devotionals for Daily Living ©
And the Lord said to him, "Pass through the city, through Jerusalem, and put a mark on the foreheads of the men who sigh and groan over all the abominations that are committed in it."
(Ezekiel 9:4 (ESV))
This was recorded by Ezekiel at a time in history when the majority of the people were defiling the temple, sacrificing their sons to foreign gods, blatantly misusing power and authority, sinning in whatever manner that they chose to, and ignoring the Lord and His Laws and commands. Does any of this sound familiar when you look at the state of the world today? Ezekiel recorded what God told the six men in the vision to do. God was looking for those left in Jerusalem who hated the abominations that were occurring. The one of the six men in the vision was to go throughout Jerusalem and mark these individuals before the judgments were to be fulfilled on those who did not receive this mark.
We like to think that if we had lived during times like this, that we would have said something, that we would have done something.
I want to let you in on a little secret!
We are living in times like this. False teachings have defiled the church. Our society willingly sacrifices children to the god of convenience. Everywhere that you look, people are misusing power and authority. People are not only unwilling to remove sin from their lives, they are embracing it as a life choice. To take this to the next level, people are not only ignoring God, they are blatantly in His face with their rebellion and sin. The saddest thing that I see is that all of this is done openly and with no remorse!
Does any of this make you sigh and groan?
Are there some things that you are willing to accept because that is the way society is today, or do you despise all of the abominations that are occurring throughout the world? If these things don't bother you, you need to check the status of your salvation. If good being called evil and evil being called good is acceptable to you, then you are not following Jesus and you are not worshiping the God of the Bible. You are worshiping something of your own creation who does not have the power to save.
If God called a prophet to tell the world the same things that Ezekiel told Jerusalem, what would be the end result for you? Would you be part of the problem or would you be part of those who wish for God's righteousness to prevail?
Would you receive this mark today?
Copyright 1998 – 2022 Dennis J. Smock
Daily Living Ministries, Inc.
http://www.dailylivingministries.org
Support Daily Living Ministries
Subscribe to daily email delivery
Visit us on facebook