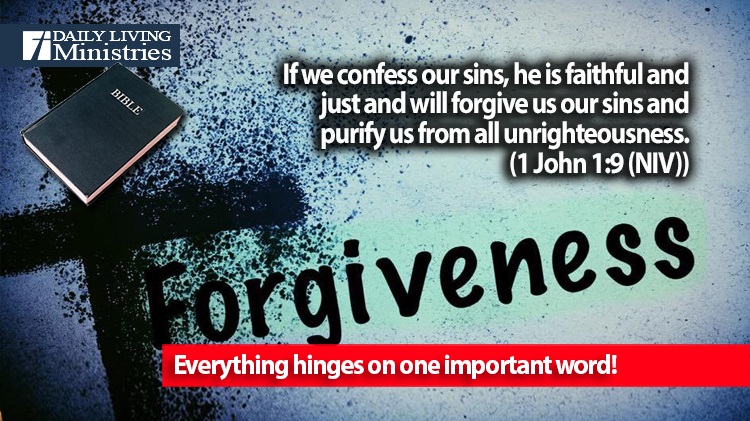 Be Still . . .
Devotionals for Daily Living ©
If we confess our sins, he is faithful and just and will forgive us our sins and purify us from all unrighteousness.
(1 John 1:9 (NIV))
IF . . .
Two little letters that far too many people simply overlook.
If you have ever done any programming or have ever created a formula in a spreadsheet, you may be familiar with an IF > THEN statement. In essence, IF something happens, THEN something else can be expected. In all honesty, this concept makes perfect sense, but why do so many people bypass the IF and still expect the THEN?
IF you work hard, THEN you will be rewarded. Too many people want the reward without the work.
IF you get good grades, THEN you can do anything that you put your mind to. Too many people want the end result without the commitment required to get there.
IF you show compassion, THEN you will be shown compassion. Too many people still have a double standard when it comes to what they do and what they expect others to do for them.
IF you confess your sins, THEN . . .
IF you profess a faith in Jesus, THEN . . .
What do you expect for the THEN when you think of these two IF statements?
Even the passage that nonbelievers know contains an IF > THEN statement. You have to look closely, but it is there!
For God so loved the world that he gave his one and only Son, that whoever believes in him shall not perish but have eternal life.
(John 3:16 (NIV))
IF you believe in Jesus, THEN you shall not perish but have eternal life.
Society has adopted a false Gospel. They have left off the IF and gone straight to the THEN where everyone is saved because God is love. It is our responsibility as believers to share the Gospel in its true form. We are to make disciples and teach them correctly. We are to show people the importance of two little letters.
Everything hinges on one important word!
Copyright 1998 – 2023 Dennis J. Smock
Daily Living Ministries, Inc.
https://www.dailylivingministries.org
Support Daily Living Ministries
Subscribe to daily email delivery
Visit us on facebook