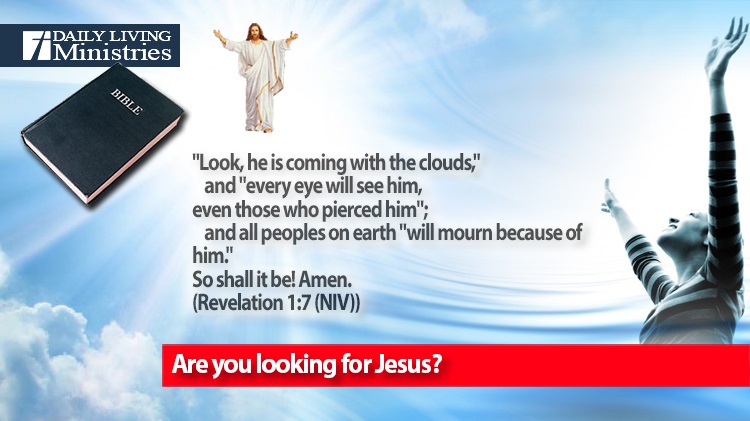 Be Still . . .
Devotionals for Daily Living ©
"Look, he is coming with the clouds,"
      and "every eye will see him,
even those who pierced him";
      and all peoples on earth "will mourn because of him."
So shall it be! Amen.
(Revelation 1:7 (NIV))
With the current state of the world, more and more people firmly believe that this day is getting closer and closer. Many believe that this is so close that it could happen any day. I don't want to get in a debate about the Rapture and when it will occur. I don't want to get into a debate about when we can expect to see Jesus coming with the clouds. My only concern is expressing the urgency of the need to accept Jesus as your personal Lord and Savior.
Have you found yourself thinking that God could set things in motion at any moment?
Are you ready for that moment?
According to this passage, the people on the earth will mourn at seeing Jesus. This sounds like the only ones left on the earth will be the ones who have not accepted Jesus as their personal Lord and Savior. Where will you be? Will you mourn His return or will you rejoice as you return with Him? If we are to return with Him, that means that we must first go up to where He is.
Are you ready?
Give your life to Jesus before it is too late, and lift up your head. Lift up your eyes for He is coming soon.
Are you looking for Jesus?
Copyright 1998 – 2021 Dennis J. Smock
Daily Living Ministries, Inc.
http://www.dailylivingministries.org
Support Daily Living Ministries
Subscribe to daily email delivery
Visit us on facebook