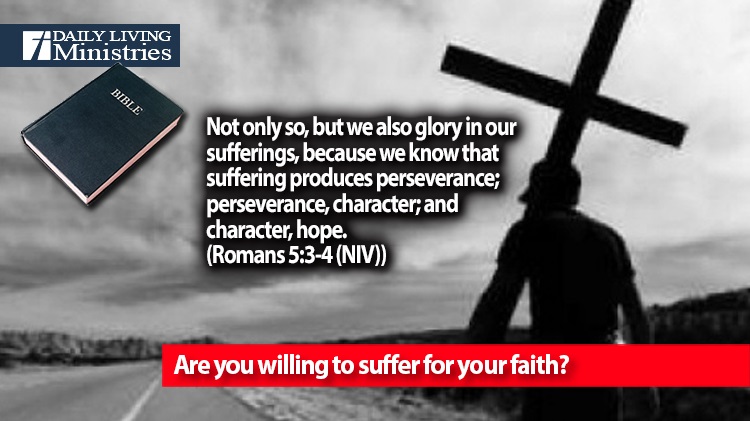 Be Still . . .
Devotionals for Daily Living ©
Not only so, but we also glory in our sufferings, because we know that suffering produces perseverance; perseverance, character; and character, hope.
(Romans 5:3-4 (NIV))
We also glory in our sufferings!
How many people do you know who can honestly claim this for their lives?
I do not know a single person who likes to suffer let alone glory in the act. However, we look at things from an earthly perspective where suffering means pain, hardship and possibly even death. Paul wrote these words to the body of believers in Rome as a spiritual roadmap knowing that they would suffer physical suffering for their faith. In this particular case, suffering was a choice that these people made simply by professing a faith in Jesus as their personal Lord and Savior. They could have stayed with the worldly view and rejected Jesus, but they chose to reject the world and embrace Jesus. They were suffering because they rejected what was considered to be the truth by their society. In other words, they didn't go along with the idea that they should do what everyone else was doing. They recognized the lies of society and embraced the truth of Jesus.
"If the world hates you, keep in mind that it hated me first. If you belonged to the world, it would love you as its own. As it is, you do not belong to the world, but I have chosen you out of the world. That is why the world hates you.
(John 15:18-19 (NIV))
They recognized the truth in these words and clung to the hope that was made manifest through their suffering. They clung to the hope that they had in Jesus!
And hope does not put us to shame, because God's love has been poured out into our hearts through the Holy Spirit, who has been given to us.
(Romans 5:5 (NIV))
I love how the writer of Hebrews ties it all together.
Now faith is confidence in what we hope for and assurance about what we do not see.
(Hebrews 11:1 (NIV))
Perseverance builds character. Character builds hope, and hope builds faith!
Are you willing to suffer for your faith?
Copyright 1998 – 2023 Dennis J. Smock
Daily Living Ministries, Inc.
https://www.dailylivingministries.org
Support Daily Living Ministries
Subscribe to daily email delivery
Visit us on facebook