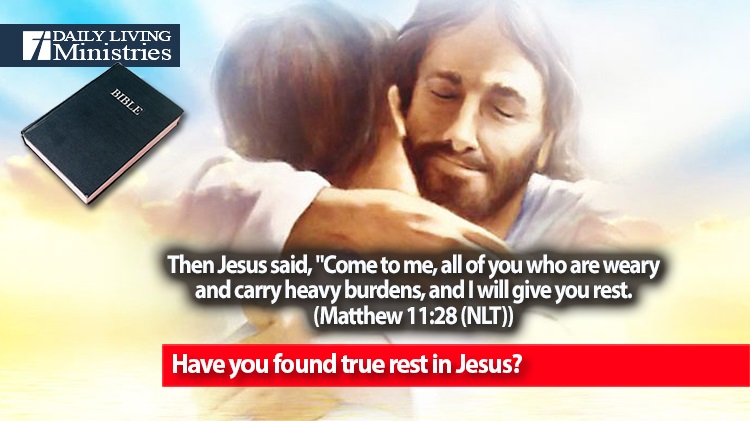 Be Still . . .
Devotionals for Daily Living ©
Then Jesus said, "Come to me, all of you who are weary and carry heavy burdens, and I will give you rest.
(Matthew 11:28 (NLT))
There is something about the words that the New Living Translation has used in translating this passage as compared to other translations.
Come to me, all you who are weary and burdened, and I will give you rest.
(Matthew 11:28 (NIV))
They say the same thing but with different words. The New Living Translation's use of the phrase "carry heavy burdens" paints a more vivid mental image than the single word "burdened." According to Merriam-Webster, burdened means heavily laden or encumbered. In essence, one translation uses what could be considered the definition of the word while most of the other translations simply use the word itself.
What do you think of when you hear the word burdened?
Is it different than what you think of when you hear the phrase "carry heavy burdens?"
Human nature is a strange thing. We try to simplify certain aspects of our lives, but when we do, we have a tendency to lose the full meaning behind what was simplified. Today, when we think of being burdened, we think of mental and emotional stress caused by work, finances or relationships. When you think of carrying heavy burdens, you switch your thinking to a physical stress. In our modern mind set, they paint completely different imagery. When Jesus spoke these words, life was physically hard. I am certain that it was also mentally difficult simply because of the physical difficulties. Today, many of us sit down for a living, or we do far less physical labor than our ancestors had to do. What we consider burdens now primarily tax our hearts and minds instead of our muscles.
No matter the type of burdens that we may face, Jesus still gives us rest.
Are you physically tired or are you mentally and spiritually taxed?
What burdens do you carry?
Have you surrendered them to the Lord?
Have you found true rest in Jesus?
Copyright 1998 – 2021 Dennis J. Smock
Daily Living Ministries, Inc.
http://www.dailylivingministries.org
Support Daily Living Ministries
Subscribe to daily email delivery
Visit us on facebook