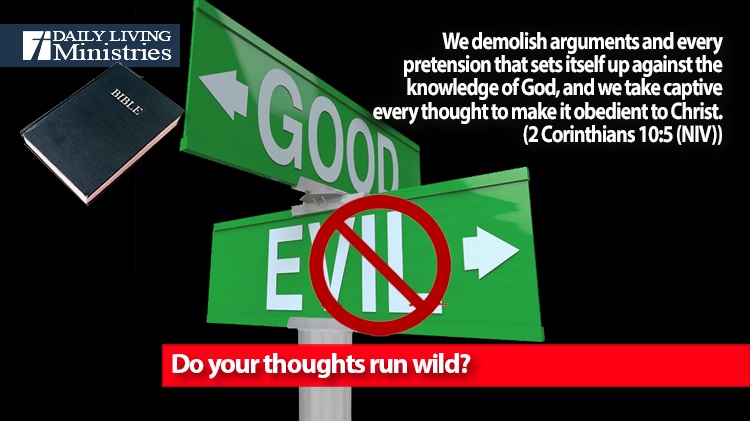 Be Still . . .
Devotionals for Daily Living ©
We demolish arguments and every pretension that sets itself up against the knowledge of God, and we take captive every thought to make it obedient to Christ.
(2 Corinthians 10:5 (NIV))
In other words, we should control what we say, see, hear and do so that we can focus on the Lord, and we should also control what we think!
This sounds wonderful, but as Paul wrote these words to the church at Corinth, he was giving instructions to the members of that body of believers on how to conduct spiritual warfare.
For though we live in the world, we do not wage war as the world does. The weapons we fight with are not the weapons of the world. On the contrary, they have divine power to demolish strongholds.
(2 Corinthians 10:3-4 (NIV))
In fact, it was Paul who was coming under attack by others who were professing to love the Gospel. These words were encouragement to weigh what he was preaching to see if he was boasting. Paul was telling this group of people, and us, to look at the message and not the messenger, for they were saying that his writings were powerful yet his speaking was not.
You are judging by appearances. If anyone is confident that they belong to Christ, they should consider again that we belong to Christ just as much as they do.
(2 Corinthians 10:7 (NIV))
Sadly, we still experience this very same thing today. We judge the messenger and not the message. We can have a dynamic speaker who doesn't speak the truth and this person will be followed. We can also have a speaker who is shy and timid and speaks the truth, but who follows this person? We must learn to discern who is speaking the truth and, as Paul wrote, demolish arguments so that we can take captive our every thought so that we are obedient to Christ. If we are too tied up in appearances, we will not be focused on the truth. Our thoughts will run out of control toward the worldly things that we say that we want to turn away from. We will have not only failed to take our thoughts captive, we will have enabled them to run wild.
Do your thoughts run wild?
Copyright 1998 – 2021 Dennis J. Smock
Daily Living Ministries, Inc.
http://www.dailylivingministries.org
Support Daily Living Ministries
Subscribe to daily email delivery
Visit us on facebook