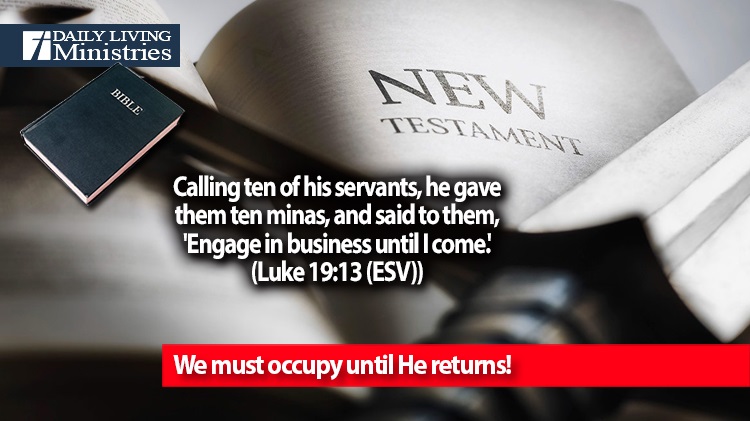 Be Still . . .
Devotionals for Daily Living ©
Calling ten of his servants, he gave them ten minas, and said to them, 'Engage in business until I come.'
(Luke 19:13 (ESV))
Engage in business until I come!
If you read this parable and miss that the master is Jesus, then engage in business means just that. However, if you make the connection that Jesus is telling His disciples that He will be leaving, then you understand that engaging in His business is telling the world about the grace and mercy that is only found through Himself. Another translation puts it this way.
And he called his ten servants, and delivered them ten pounds, and said unto them, Occupy till I come.
(Luke 19:13 (KJV))
As followers of Jesus, we are to occupy until He comes. This translation brings to the table a different, more emphatic instruction set for those who profess a faith in Jesus as their personal Lord and Savior. We are to occupy this world. When I read this translation, my mind automatically thinks of an occupying army. They do what they are commanded and do not fear the consequences, for they have an authority that is not native to the land that they answer to. They are to carry out the instructions that they have been given. As the Body of Christ, we have been given instructions that we are to perform until His return.
Then Jesus came to them and said, "All authority in heaven and on earth has been given to me. Therefore go and make disciples of all nations, baptizing them in the name of the Father and of the Son and of the Holy Spirit, and teaching them to obey everything I have commanded you. And surely I am with you always, to the very end of the age."
(Matthew 28:18-20 (NIV))
The church, the Body of Christ, is an occupying army. We are instructed to take captive those who are currently not following Jesus. We are instructed to share the Gospel of salvation with a sinful and dying world. We are to rebuke the enemy. We are instructed to bind the power of the enemy and to show people how they can break the chains of bondage to sin.
The translations that refer to engaging in business don't paint the complete picture in my mind. Most people think of buying and selling and making a profit when you mention business. I am not capable of reading this passage in the original language, so I have to rely on the people who have performed the translations. Word choice can make a big difference. I know that it does for me.
What about you?
What translation conveys this passage in the best way, the most understandable way, for you?
No matter which translation you choose, we are called to be doing the work that Jesus instructed us to do until He returns. Many people, myself included, believe that recent world events indicate that the time of the end is rapidly approaching. We are called to be His light in a dark and dying world. We are called to share the Gospel into the lives of sinners in need of a Savior. We are called to be about His business!
Are you performing the duties that we have been given?
We must occupy until He returns!
Copyright 1998 – 2022 Dennis J. Smock
Daily Living Ministries, Inc.
https://www.dailylivingministries.org
Support Daily Living Ministries
Subscribe to daily email delivery
Visit us on facebook