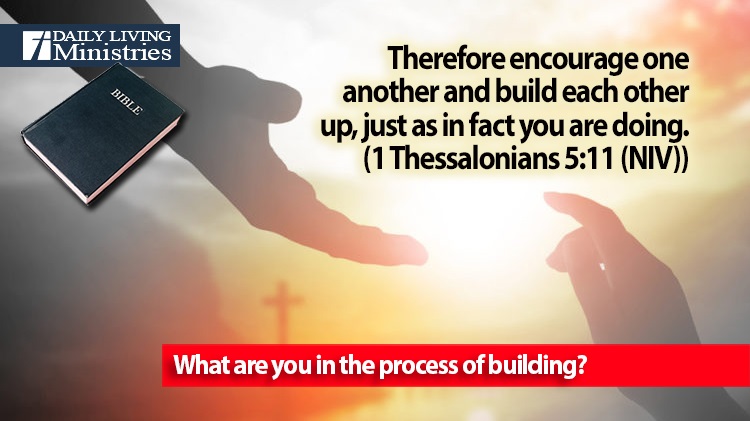 Be Still . . .
Devotionals for Daily Living ©
Therefore encourage one another and build each other up, just as in fact you are doing.
(1 Thessalonians 5:11 (NIV))
Did you realize that you are called to be a builder?
No matter what type of skills we may have in this physical world, each of us who profess a faith in Jesus as your personal Lord and Savior are called to be there for other people who also profess a faith in Jesus.
For where two or three gather in my name, there am I with them."
(Matthew 18:20 (NIV))
When we gather together in His name, we encourage each other, we strengthen each other, we provide support for each other. In other words, we build up the Body of Christ by holding each other accountable to what the Lord has called us to do. We are stronger together!
And let us consider how we may spur one another on toward love and good deeds, not giving up meeting together, as some are in the habit of doing, but encouraging one another—and all the more as you see the Day approaching.
(Hebrews 10:24-25 (NIV))
With all that has transpired in the world over the last several years, are you a voice of encouragement to others? Do you remind them of who that are and whose they are? Do you point people to the path that leads to eternal life? Do you urge people to hold fast to their faith when all around them seems dark? Do you help people to see the light that is asking them to press onward toward the prize that is only found in Jesus?
If you are doing these things, then you are a builder!
But, we also have the capacity to build barriers and to put up obstacles to faith just as the Pharisees did? We must stay focused on Jesus and make sure that we encourage and not hate. We must build and not destroy. We can do tremendous things when we love as Jesus loves, but we must stay focused on Jesus so that what we are called to build is not done in vain.
Unless the Lord builds the house,
     the builders labor in vain.
(Psalm 127:1a (NIV))
What are you in the process of building?
Copyright 1998 – 2023 Dennis J. Smock
Daily Living Ministries, Inc.
https://www.dailylivingministries.org
Support Daily Living Ministries
Subscribe to daily email delivery
Visit us on facebook