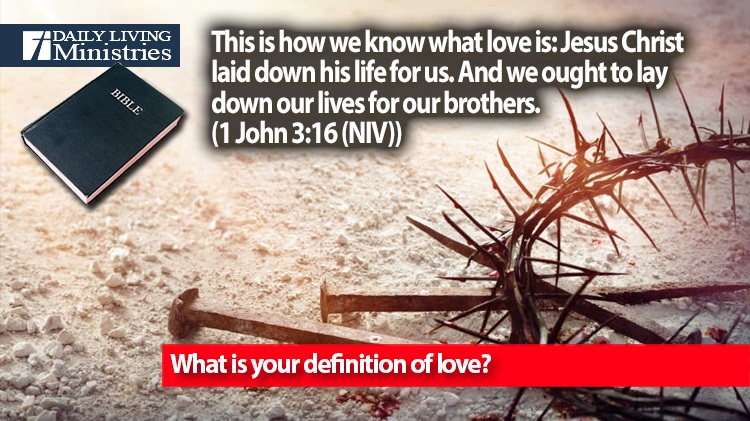 Be Still . . .
Devotionals for Daily Living ©
This is how we know what love is: Jesus Christ laid down his life for us. And we ought to lay down our lives for our brothers.
(1 John 3:16 (NIV))
On the day that we set aside to celebrate romantic love, we need to stop and reflect on what true love actually looks like. Let's start with a simple question. What is your definition of love?
Does it include such things as roses and candlelight dinners? Perhaps we need to look at love from a much different perspective.
Greater love has no one than this, that he lay down his life for his friends.
(John 15:13 (NIV))
Just in case you didn't know it, there are many different types of love. Love is much more than a feeling. It is an action. It is is a choice! That is definitely true when you realize that the ultimate form of love is the act of self-sacrificing for the benefit of someone else.
Do you see a pattern developing through these two verses of scripture? Love is a willingness to put the well-being of someone else above your own well-being. This is not easy to do, for self preservation runs very strong as part of the human experience. In other words, we have to look beyond our humanity and reach for the same characteristic within ourselves that Jesus displayed when He willingly went to the cross to die for our sins.
It is not easy!
Would you be able to lay down your life for your family and friends? Would you be able to lay down your life for a complete stranger? I pray that if the situation should ever arise that I would make the decision that would prove my love. Can you imagine what Jesus felt when He did what He did? No wonder He spoke these words from the cross as He looked out at those who were involved in His crucifixion.
Jesus said, "Father, forgive them, for they do not know what they are doing."
(Luke 23:34a(NIV))
Think about that for a moment. Do we truly know what we are doing? Do we truly understand God's plans? Do we truly know how are actions of love will impact those around us? Do we know how far we will go to show our love?
What is your definition of love?
Copyright 1998 – 2022 Dennis J. Smock
Daily Living Ministries, Inc.
http://www.dailylivingministries.org
Support Daily Living Ministries
Subscribe to daily email delivery
Visit us on facebook