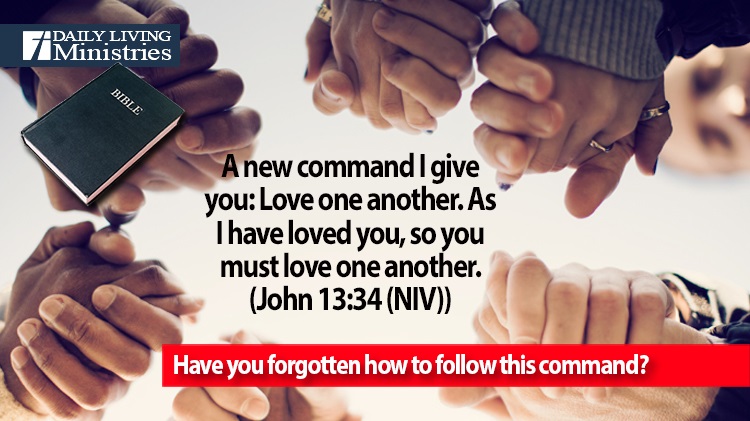 Be Still . . .
Devotionals for Daily Living ©
A new command I give you: Love one another. As I have loved you, so you must love one another.
(John 13:34 (NIV))
Let's take a look at how Jesus loved when He walked this earth so that we can better understand how we are to love each other.
Jesus called people to repent, to turn from their selfish, sinful natures. He did this out of compassion for those caught in sin and the consequences of sin. He did not antagonize or mock sinners. He called to them out of a true love, a true desire to see them come to a saving knowledge of Him. He loved people because that is why He came!
For God so loved the world that he gave his one and only Son, that whoever believes in him shall not perish but have eternal life. For God did not send his Son into the world to condemn the world, but to save the world through him. Whoever believes in him is not condemned, but whoever does not believe stands condemned already because they have not believed in the name of God's one and only Son.
(John 3:16-18 (NIV))
It is true that Jesus did get angry, but His anger was only manifested when God's Temple was defiled or the religious leaders were making a mockery out of what God had intended. His anger was never focused on those whom He came to save. In fact, even in His anger, I think that it is safe to say that, just as a father's heart breaks when his children misbehave, His heart broke for those who were doing the things that caused His anger.
Even in our darkest moments, He loves us!
Can we say that of each other? Can we love each other as Jesus loves us? Loving each other is part of loving God! It is part of our calling!
Whoever claims to love God yet hates a brother or sister is a liar. For whoever does not love their brother and sister, whom they have seen, cannot love God, whom they have not seen.
(1 John 4:20 (NIV))
Jesus has commanded that we love one another.
Have you forgotten how to follow this command?
Copyright 1998 – 2023 Dennis J. Smock
Daily Living Ministries, Inc.
https://www.dailylivingministries.org
Support Daily Living Ministries
Subscribe to daily email delivery
Visit us on facebook