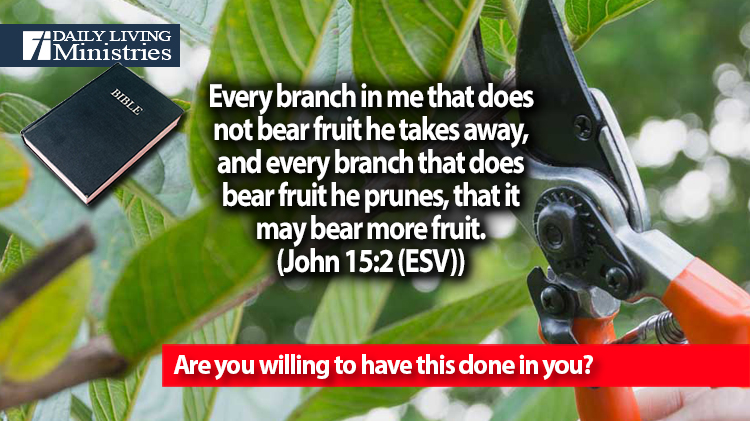 Be Still . . .
Devotionals for Daily Living ©
Every branch in me that does not bear fruit he takes away, and every branch that does bear fruit he prunes, that it may bear more fruit.
(John 15:2 (ESV))
Let's face facts. We don't like change, especially if it takes us outside of our comfort zones. Even when dealing with things in our lives that we know need to be addressed, we would rather simply ignore them instead of dealing with them. It is just human nature.
That is not how God works.
"For my thoughts are not your thoughts,
     neither are your ways my ways,"
declares the Lord.
"As the heavens are higher than the earth,
     so are my ways higher than your ways
     and my thoughts than your thoughts.
(Isaiah 55:8-9 (NIV))
We like to hold onto our sins. God calls us to let them go.
We like to hide our sins. God calls us to confess them.
We like to embrace our sins. God calls us to embrace Him.
In essence, God calls us to accept the gift of salvation freely offered through the cross. Through this gift, He is calling us to allow our sins to be removed from our lives and replaced with His righteousness. I don't know about you, but I like His ways far more than I like my ways. I long to freely surrender what needs to be taken away and to allow other areas to be pruned. I long to bear so much more fruit according to His will.
Are you willing to have this done in you?
Copyright 1998 – 2022 Dennis J. Smock
Daily Living Ministries, Inc.
http://www.dailylivingministries.org
Support Daily Living Ministries
Subscribe to daily email delivery
Visit us on facebook