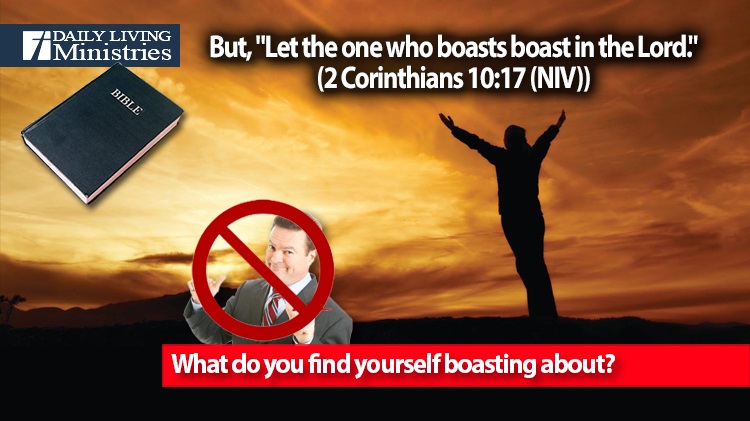 Be Still . . .
Devotionals for Daily Living ©
But, "Let the one who boasts boast in the Lord."
(2 Corinthians 10:17 (NIV))
What do you think of people who always boast and brag about their accomplishments?
I could probably stop right there and just let you think about that for a while, but I want to ask you one more question, and you may not like your answer.
Have you ever been one of those people who always boasts and brags about the things that you have done?
We all are guilty of being human with a sinful, fallen nature, so I think that I can safely say that we have all done this at one point in our lives. We like to toot our own horn. We like to draw attention to ourselves. We like to feel important. We like to have others think that we are important, but we all know that this is a lie.
All of us have become like one who is unclean,
     and all our righteous acts are like filthy rags;
we all shrivel up like a leaf,
     and like the wind our sins sweep us away.
(Isaiah 64:6 (NIV))
In other words, we are nothing in the grand scheme of things. For most of us, time will only remember us for one or two generations after we are gone. We can do nothing, and therefore, we can boast of nothing that will matter fifty years from now.
The life of mortals is like grass,
     they flourish like a flower of the field;
the wind blows over it and it is gone,
     and its place remembers it no more.
(Psalms 103:15-16 (NIV))
What have we that we can boast about?
Truly the only thing that we can boast of is that we are loved by God even in our sinful, fallen state!
For God so loved the world that he gave his one and only Son, that whoever believes in him shall not perish but have eternal life. For God did not send his Son into the world to condemn the world, but to save the world through him. Whoever believes in him is not condemned, but whoever does not believe stands condemned already because they have not believed in the name of God's one and only Son.
(John 3:16-18 (NIV))
What do you find yourself boasting about?
Copyright 1998 – 2021 Dennis J. Smock
Daily Living Ministries, Inc.
http://www.dailylivingministries.org
Support Daily Living Ministries
Subscribe to daily email delivery
Visit us on facebook