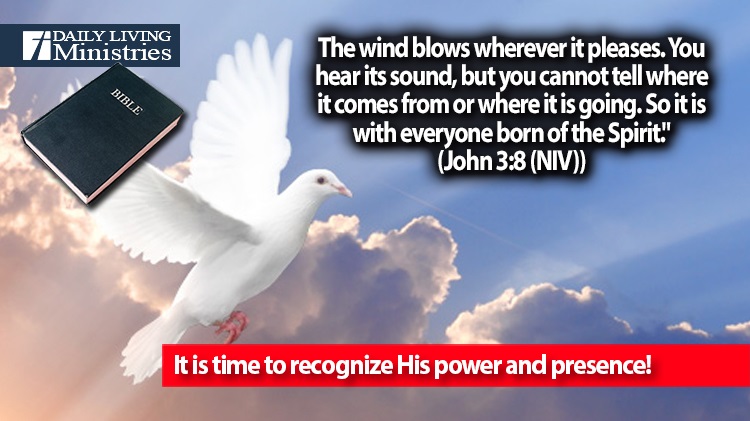 Be Still . . .
Devotionals for Daily Living ©
The wind blows wherever it pleases. You hear its sound, but you cannot tell where it comes from or where it is going. So it is with everyone born of the Spirit."
(John 3:8 (NIV))
What do you think of when someone says that they are born of the Spirit?
What do you think of when someone says that they are led by the Spirit?
It is human nature to think that this is a lie simply because you don't feel that way about yourself? Still, for anyone who professes a faith in Jesus, this is prayerfully the desire of your heart. As followers of Jesus, we should be listening for that still, small voice. We should be seeking the newness of complete restoration that only comes from God. We should be seeking to know which way the wind is blowing so that we may follow the Holy Spirit!
In order for this to happen, we must be willing to surrender all, and not only what the world can see. We must be willing to confess our sins and repent, to turn away from the very things that weigh us down and keep us away from truly knowing the very heart of God! We must desire to have a heart that seeks after God in all of His majestic goodness, grace and glory. We must desire a pure heart in the eyes of God!
Create in me a pure heart, O God,
     and renew a steadfast spirit within me.
(Psalm 51:10 (NIV))
I have been closely watching the revivals that are ongoing on many college campuses right now. There is a spirit of confession. There is a spirit of repentance. There is a true hunger for God, and He is honoring that.
I have seen pictures and videos of people lined up for blocks waiting to get in. I have seen videos of what appears to be thousands of people standing outside of the chapel praising God while they are watching a large video screen of the events inside. This started as a college student revival. What I am now seeing is people of all ages driving hours on end to be close to God. People are hungry. They desire God. They are worshiping in places and under circumstances that most would have never imagined. They know that there is a hole in their lives that only He can fill.
They are surrendering to the power of the Holy Spirit!
Where will this lead?
Only God knows!
How long will this last?
Only God knows!
If you hunger and thirst for righteousness, then it is time to surrender to the Holy Spirit.
It is time to recognize His power and presence!
Copyright 1998 – 2023 Dennis J. Smock
Daily Living Ministries, Inc.
https://www.dailylivingministries.org
Support Daily Living Ministries
Subscribe to daily email delivery
Visit us on facebook