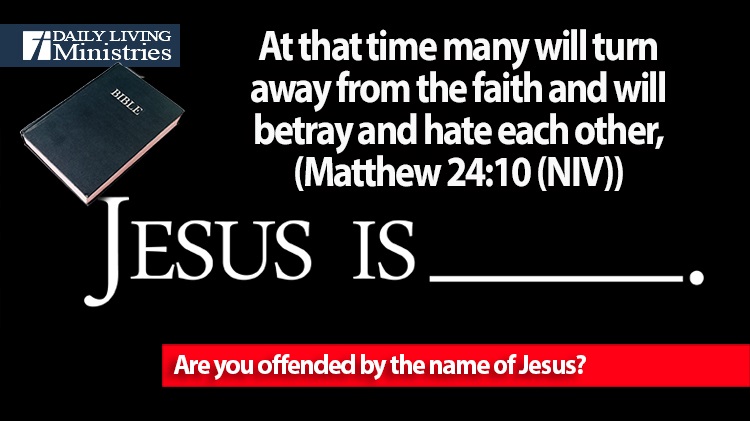 Be Still . . .
Devotionals for Daily Living ©
At that time many will turn away from the faith and will betray and hate each other,
(Matthew 24:10 (NIV))
As many of you may know, I like reading many different translations. The New International Version translates this as "turn away," and the English Standard Version translates this as "fall away." But, the following translation came across my computer screen today and it made me stop!
And then many will be offended, will betray one another, and will hate one another.
(Matthew 24:10 (NKJV))
Did you catch the word that caught my attention?
I don't know about you, but we live in a time where everything about Jesus is offensive to those who are of the world. Whether they use the word "offended" or "triggered," the meaning is clear, especially when you take into account the remaining sentences regardless of the translation.
and many false prophets will appear and deceive many people. Because of the increase of wickedness, the love of most will grow cold, but the one who stands firm to the end will be saved.
(Matthew 24:11-13 (NIV))
With this in mind, it is important that every person who professes a faith in Jesus as their personal Lord and Savior take a serious look at what they truly profess. This requires more than I can get into in just a few words, but it all comes down to an inner search with respect to who Jesus is, what He taught, and what His disciples have verified as they spread the good news. In essences, do you believe that Jesus is the only begotten Son of God? Do you believe that salvation is found in no other name? Do you believe that Jesus came to seek and save the lost, and to not tell us that our sin is okay? Do you believe that Jesus is calling us to repent of our sins, even the ones that we are comfortable with, and turn to Him?
Comfortable sins!
I believe that this is what the enemy has used to have people turn away or fall away. It is now what makes people offended. They don't want to know the truth. They simply want to know their sin. If anything calls their sin what it truly is, they call that offensive. They become triggered and lash out at those who profess a faith in the One who is calling us to repentance.
They have turned away from the truth, and they have become offended by the truth.
It's time for a reality check!
Are you offended by the name of Jesus?
Copyright 1998 – 2023 Dennis J. Smock
Daily Living Ministries, Inc.
https://www.dailylivingministries.org
Support Daily Living Ministries
Subscribe to daily email delivery
Visit us on facebook