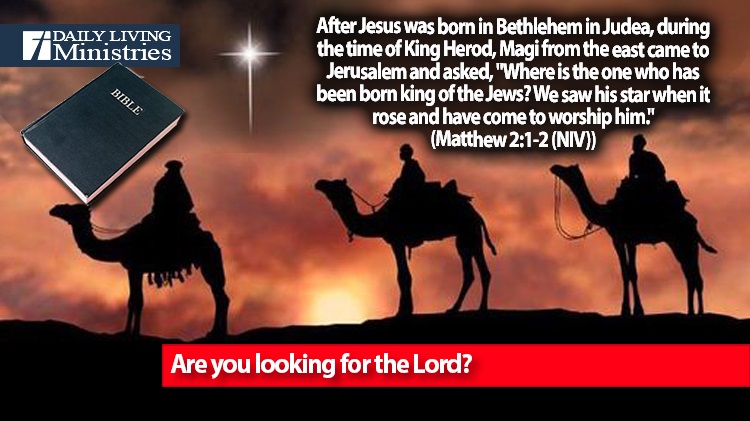 Be Still . . .
Devotionals for Daily Living ©
After Jesus was born in Bethlehem in Judea, during the time of King Herod, Magi from the east came to Jerusalem and asked, "Where is the one who has been born king of the Jews? We saw his star when it rose and have come to worship him."
(Matthew 2:1-2 (NIV))
Have you ever had anything happen that was right under your nose but you failed to see it? How did you react when someone else pointed the things out to you that they had seen that you had missed?
All of Jerusalem was so caught up in the politics of the day and the petty issues that we all get so involved in that they missed the very prophecies that foretold of the Messiah as they came to life in their very presence. They were so involved in their daily lives that they had all but forgotten about the promises that God had made. To be honest with you, I think it is safe to say that most people weren't even considering that God would do anything in their midst.
They had to have outsiders come and ask them about the Messiah!
We are rapidly coming up on the day that we celebrate as the birth of Jesus our Messiah, but would we have recognized the signs when He first came? We know that He is coming again. Will we recognize the signs when He comes again? Are we paying attention to the things going on around us and in the world, or are we so engrossed in our own lives and in our own problems that we are failing to recognize what is under our noses? Will we be caught by surprise in much the same way that King Herod and the people of Jerusalem were caught by surprise two thousand years ago?
As believers, as followers of Jesus, we like to think that we will not react as others have reacted in the past. We like to think that we have better insight and are better educated, but are we? Are we expecting this world to get better or are we expecting Jesus to return because the things of this world are getting worse?
We are at a time in history when those who profess a faith in Jesus as their personal Lord and Savior must not focus on the things of this world. We must focus on Jesus. We must lift our eyes to the Lord. We must recognize what is happening according to God's plan!
Are you looking for the Lord?
Copyright 1998 – 2021 Dennis J. Smock
Daily Living Ministries, Inc.
http://www.dailylivingministries.org
Support Daily Living Ministries
Subscribe to daily email delivery
Visit us on facebook