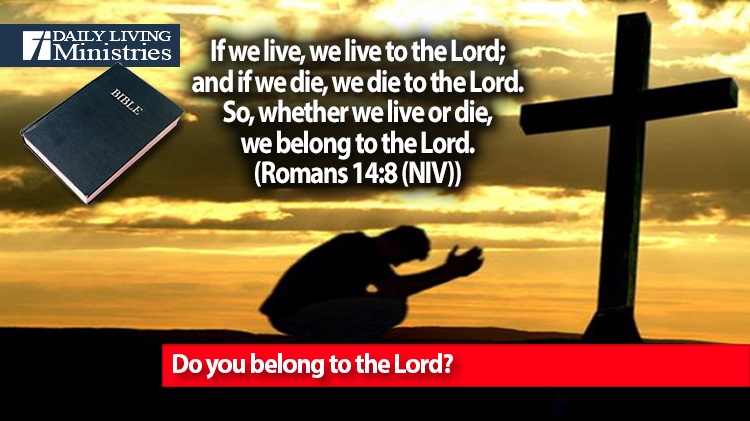 Be Still . . .
Devotionals for Daily Living ©
If we live, we live to the Lord; and if we die, we die to the Lord. So, whether we live or die, we belong to the Lord.
(Romans 14:8 (ESV))
What is your outlook on life?
Do you think that the world owes your because you are in it? Do you think that the world belongs to you and everything in it is yours for the taking? Do you live your life for yourself and everybody else is just in the way? If your heart is this hardened, are you even capable of love?
Perhaps you aren't quite that bad in your eyes.
Do you live your life ignoring God and only commit an hour to the Lord on Sunday? Do you sit in the congregation and think that you are better than everyone else there because your sins aren't that bad? Do you think that you are a good person because you sit in church? Just as sitting in a garage does not make you a car, sitting in a church pew does not make you a Christian!
When Paul wrote these words in his letter to the Romans, he called for one hundred percent commitment to the Lord! Are you capable of having this type of outlook on life? This outlook calls for repentance. It calls for sharing the Gospel. It calls for trust. It calls for love. It calls for surrender. Accepting Jesus as your Lord and Savior means that you not only look to Jesus for you salvation. It also means that you look to Jesus to be the Lord of your life.
Jesus has full authority!
Does He? Do you truly live for the Lord, or do you only try to surrender part of your life? We are called to surrender everything to His authority?
Do you belong to the Lord?
Copyright 1998 – 2021 Dennis J. Smock
Daily Living Ministries, Inc.
http://www.dailylivingministries.org
Support Daily Living Ministries
Subscribe to daily email delivery
Visit us on facebook