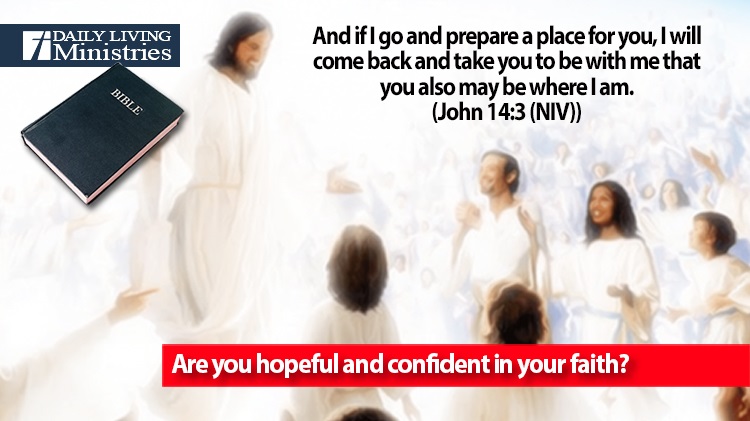 Be Still . . .
Devotionals for Daily Living ©
And if I go and prepare a place for you, I will come back and take you to be with me that you also may be where I am.
(John 14:3 (NIV))
Every believer clings to this verse!
Have you ever stopped to contemplate why we cling to this verse? I am certain that each of us have our own reasons, but everything truly comes down to how we view God and how we view this world. I honestly believe that we cling to this verse because we don't like the sinful, fallen nature of the world in which we find ourselves living. We cling to this verse because we despise the fact that God's goodness is called evil and what God calls evil is called good. We cling to this verse because we long for His righteousness to prevail over this fallen world. We cling to this verse because we long to be in the presence of the Lord! In just a few words, God has given us so much to reflect upon and so much to rejoice about.
These words are filled with a promise that we can trust.
For no matter how many promises God has made, they are "Yes" in Christ. And so through him the "Amen" is spoken by us to the glory of God.
(2 Corinthians 1:20 (NIV))
These words solidify in our minds the greatness of God's love for us by providing details of how that love will manifest itself for all of eternity.
For God so loved the world that he gave his one and only Son, that whoever believes in him shall not perish but have eternal life.
(John 3:16 (NIV))
Perhaps the biggest aspect of this verse is the unbridled hope that it gives the person who professes a belief in Jesus, and from that hope, faith matures!
Now faith is confidence in what we hope for and assurance about what we do not see.
(Hebrews 11:1 (NIV))
In essence, if there is no hope, then confidence cannot develop. If there is no confidence, then faith cannot grow. Without hope, we are lost!
Jesus planted hope with these words. He gave us the confidence of His promises, and He instilled in each believer the seed of faith with the promise to prepare a place for those who believe. He didn't stop there. He took it to the next level by proclaiming that He would return for those whom He has prepared a place! These few words give us a reason to persevere in the face of adversity. They give us a reason to face the world even when the world seems to be targeting us and has us directly in its cross hairs. These words help us to remember the power and the promise that Jesus spoke for those who believe.
With the events of this world, it seems that the enemy is doing his best to destroy the hope of everyone, but in particular, he wants to destroy the hope of those who profess a faith in Jesus as their personal Lord and Savior. We must not lose the hope that we have through Jesus, for if we lose the hope that makes us confident, then faith is also lost. When the world is getting you down, look up! Look up and imagine the place that Jesus is preparing for you. Look up and pray for strength to continue to be faithful. Look up and pray to continue to be confident. Look up in hope!
Are you hopeful and confident in your faith?
Copyright 1998 – 2021 Dennis J. Smock
Daily Living Ministries, Inc.
http://www.dailylivingministries.org
Support Daily Living Ministries
Subscribe to daily email delivery
Visit us on facebook