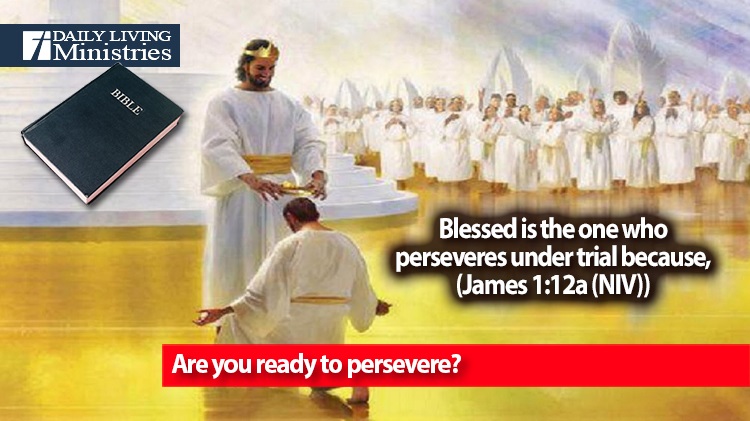 Be Still . . .
Devotionals for Daily Living ©
Blessed is the one who perseveres under trial because,
(James 1:12a (NIV))
As believers, we are told to stand firm, to hold fast, and to persevere under trial. With everything that is going on in the world, hold fast to what you know to be true! Don't let the things of this world sway you from your faith. We have been told that there would be trouble in this world that we must go through. We have also been told that Jesus, in whom we have placed our faith, has overcome the world.
"I have told you these things, so that in me you may have peace. In this world you will have trouble. But take heart! I have overcome the world.
(John 16:33 (NIV))
Did you notice the one word at the end of the scripture segment that starts today's devotional. It is a word that we use all of the time, but we have probably overused it to the point where we no longer truly realize the implications that it contains. We are used to hearing people answer questions with "because" as if it is a reason in and of itself. According to Merriam-Webster, because means "for the reason that" and points you to the reasons for a thought process, a statement, or a fact. In this particular case, it points to what will be the result of persevering under trial.
Blessed is the one who perseveres under trial because, having stood the test, that person will receive the crown of life that the Lord has promised to those who love him.
(James 1:12 (NIV))
It points to the rewards that will be given for standing firm in our faith and loving the Lord!
Do you love the Lord?
Don't let the things of this world change that love and that faith. Time is short and we are undergoing trials. Personally, I believe that what we are seeing is only the beginning. Things are ramping up fast. There are many people who study prophecy that have all independently stated that God's end time plan is unfolding rapidly right before our eyes. If that is the case, we will face more trials.
Are you ready to persevere?
Copyright 1998 – 2021 Dennis J. Smock
Daily Living Ministries, Inc.
http://www.dailylivingministries.org
Support Daily Living Ministries
Subscribe to daily email delivery
Visit us on facebook