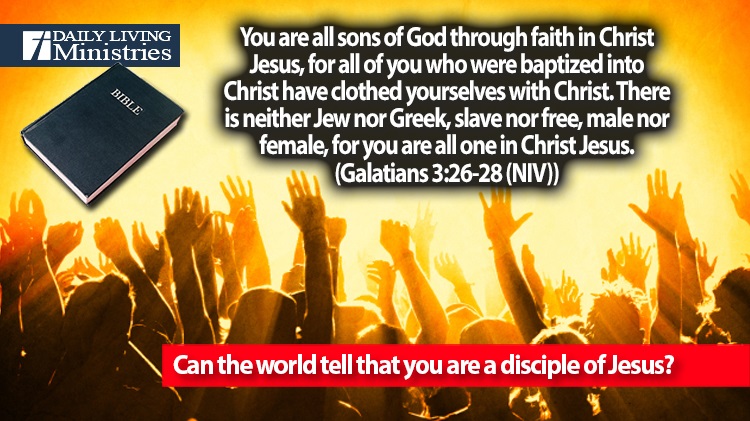 Be Still . . .
Devotionals for Daily Living ©
You are all sons of God through faith in Christ Jesus, for all of you who were baptized into Christ have clothed yourselves with Christ. There is neither Jew nor Greek, slave nor free, male nor female, for you are all one in Christ Jesus.
(Galatians 3:26-28 (NIV))
This merits repeating!
This may sound like a silly question, but what is it that we celebrate at Christmas?
Is it the denominational differences that we, humanity, have placed as barriers between ourselves? Is it how we profess our faith? Is it how we sing praises? Is it the color of the skin of the congregation?
Or is it the birth of Jesus?
I often wonder what Jesus would say of He were to come to earth and give us a report card update on how we are doing? Would he commend us or condemn us?
Personally, I believe that we would most likely get a mixed review. One in which we would receive severe judgment for the way that we have allowed the Gospel to be removed from society. I believe that we would be held accountable for the way that we still segregate the Body of Christ I believe that we would also be held accountable for not doing enough to share the Gospel, for it is a gift to everyone, and not just those who look, act and think like us.
It is for Jew and Greek, slave and free, male and female.
In other words, it is for those who may not be like you. It is also for those who may be just like you. Think about that last statement. I know that if I found someone "just like me," I would pray for them continuously, for I know the sins that they would be fighting.
We, as the Body of Christ, come from many different backgrounds. We must prevent these differences from separating us from the rest of the Body of Christ, and from Jesus. We come from many different traditions. Traditions are a funny thing. A tradition is simply a routine way of doing something. They are man-made and must not get in our way of rejoicing with each other about the birth of Jesus.
I once heard someone tell a story about a young bride who, after getting married, wanted to cook a pot roast for her husband. She bought the needed pot and the roast. She then called her mother to get instructions. After listening to her mother, she asked a very serious question. "Why did you always cut off the end of the roast? I want to do it exactly like you." Her mother's response was that she cut the roast because her pot was too small. It appears that not all traditions are ones that we need to continue.
Since we are all one in Christ Jesus, what "traditions" do we allow to keep us separated? If we are all sons of God through faith in Christ, why do we often treat our brothers and sisters like we do? I can hear some of you thinking that this is what brothers and sisters do. I honestly hope that the Body of Christ does not act like natural brothers and sisters. We should show the world a different side.
"A new command I give you: Love one another. As I have loved you, so you must love one another. By this all men will know that you are my disciples, if you love one another."
(John 13:34-35 (NIV))
Can the world tell that you are a disciple of Jesus?
Copyright 1998 – 2022 Dennis J. Smock
Daily Living Ministries, Inc.
https://www.dailylivingministries.org
Support Daily Living Ministries
Subscribe to daily email delivery
Visit us on facebook