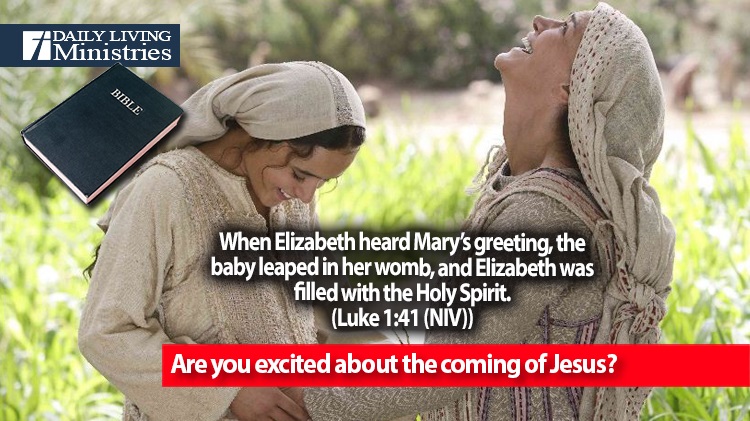 Be Still . . .
Devotionals for Daily Living ©
When Elizabeth heard Mary's greeting, the baby leaped in her womb, and Elizabeth was filled with the Holy Spirit.
(Luke 1:41 (NIV))
Am I the only person who took this to mean that the power and authority of Jesus was so strong that even as an unborn child, He radiated this power and authority through Mary?
Think about that for a moment.
No matter how you try to explain it, it all comes down to the simple fact that Jesus manifested Himself even from the womb. Those who longed for His presence felt the power and the authority that was His and is His alone. An unborn child leaped for joy at the presence of his Creator. Elizabeth was filled with the Holy Spirit. They glorified the Lord by their actions. This was not the beginning of such awe and wonder, for the conception was the beginning of the miracles. This was special in that it was still based on the promise being fulfilled by the birth of Jesus, and it was special because it was the first incident that involved more than Mary. At His birth we see such things as the star, the Magii, and the shepherds, but the first time that the power and authority of Jesus manifested itself to others was before His birth.
People had been looking for His promised coming for a long time. Today, we look back through history and read about these events, but we must never lose sight of the awesome power and authority that actually transpired. We must never lose sight of the fact that what we celebrate as the birth of Jesus is only the beginning of God's plan of redemption. We are given a little glimpse of the power and authority through this passage. If you look at the life of Jesus, His power and authority increases with each step that is recorded. Look at the miracles. Look at the raising of Lazarus from the dead. Look at the crucifixion. Lift up praises for the resurrection and read in awe as the disciples see Jesus ascend into heaven!
If you love all of this, just wait for His return!
Are you excited about the coming of Jesus?
Copyright 1998 – 2021 Dennis J. Smock
Daily Living Ministries, Inc.
http://www.dailylivingministries.org
Support Daily Living Ministries
Subscribe to daily email delivery
Visit us on facebook