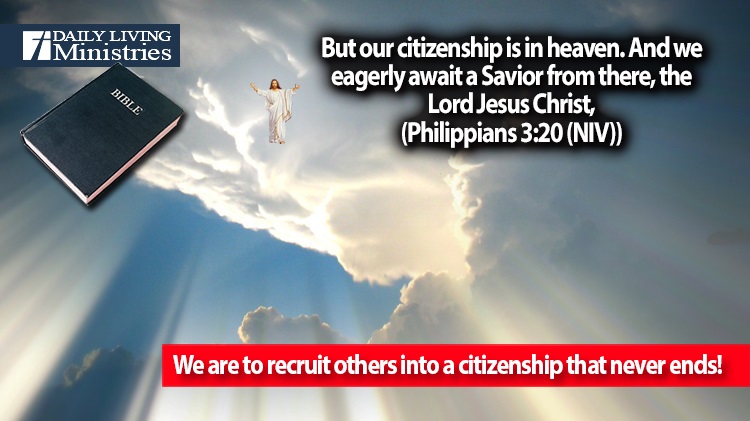 Be Still . . .
Devotionals for Daily Living ©
But our citizenship is in heaven. And we eagerly await a Savior from there, the Lord Jesus Christ,
(Philippians 3:20 (NIV))
If someone where to ask you what your address is, you would undoubtedly be able to answer with an exact location. My father spent over twenty years in the U.S. Army, and our address constantly changed depending on his assignment. For this reason, he always used his parents home address as his permanent mailing address, even when he was out of country.
If they were to ask you what country you were a citizen of, you would also be able to answer, even if you are one of the few who possess a dual citizenship. Which one do you consider your primary address and citizenship?
In both of these types of situations, people will most likely claim a primary, or permanent residence or citizenship. If you profess a faith in Jesus as your personal Lord and Savior, you don't have two citizenships – one in heaven and one on earth. You only have one. You are a citizen of heaven first and foremost. Your time on this earth is only a visit, a walk of faith on your way to your true residence.
Do you truly feel that this world is not your home? Do you grow tired of the things that you see and experience as you walk through this physical life?
If you profess a faith in Jesus, then you should feel uncomfortable in this world. You should long for heaven!
For this world is not our home; we are looking forward to our everlasting home in heaven.
(Hebrews 13:14 (TLB))
I long for the day that I will see Jesus face to face, but, until then, I have a task set out before me. It is the very same task that each person has that professes a faith in Jesus.
We are to make disciples!
We are to share the Gospel!
We are to recruit others into a citizenship that never ends!
Copyright 1998 – 2023 Dennis J. Smock
Daily Living Ministries, Inc.
https://www.dailylivingministries.org
Support Daily Living Ministries
Subscribe to daily email delivery
Visit us on facebook