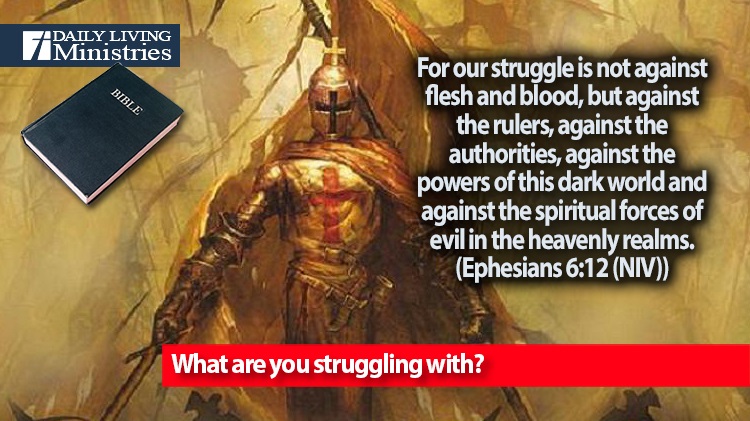 Be Still . . .
Devotionals for Daily Living ©
For our struggle is not against flesh and blood, but against the rulers, against the authorities, against the powers of this dark world and against the spiritual forces of evil in the heavenly realms.
(Ephesians 6:12 (NIV))
Do you ever feel like you are fighting a losing battle? Do you feel that no matter what you do, nothing ever goes your way? Do you ever feel like you do all the work and everyone else gets ahead? Do you see evil triumphantly defy all that you struggle to do?
Every person who has ever lived has faced struggles, but some seem to face more than others. If this is you, how do you respond?
Consider it pure joy, my brothers and sisters, whenever you face trials of many kinds, because you know that the testing of your faith produces perseverance. Let perseverance finish its work so that you may be mature and complete, not lacking anything.
‭‭(James‬ 1:2-4‬ (NIV‬‬))
Do you face your struggles with joy?
I realize that this is an unusual question, but that is exactly what anyone who professes a faith in Jesus as their personal Lord and Savior is called to do. We must remember that we have changed our citizenship. We are no longer part of this world. We are just passing through on our way to our ultimate home with Jesus. Because of this, the world hates us.
"If the world hates you, keep in mind that it hated me first. If you belonged to the world, it would love you as its own. As it is, you do not belong to the world, but I have chosen you out of the world. That is why the world hates you."
‭‭(John‬ 15:18-19‬ (NIV‬‬))
Who do you belong to?
What are you struggling with?
Copyright 1998 – 2021 Dennis J. Smock
Daily Living Ministries, Inc.
http://www.dailylivingministries.org
Support Daily Living Ministries
Subscribe to daily email delivery
Visit us on facebook