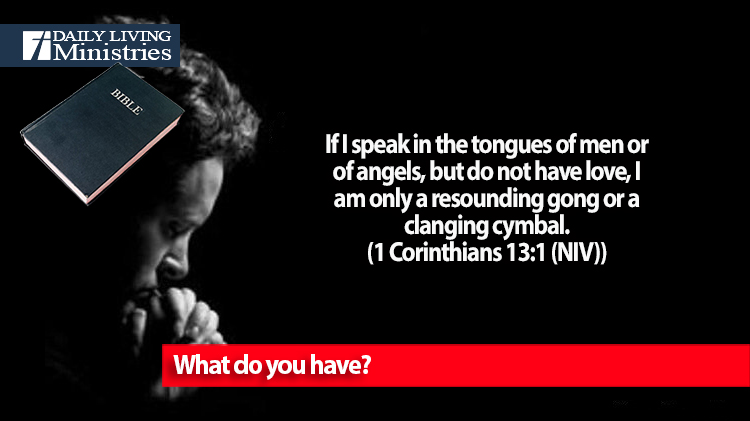 Be Still . . .
Devotionals for Daily Living ©
If I speak in the tongues of men or of angels, but do not have love, I am only a resounding gong or a clanging cymbal.
(1 Corinthians 13:1 (NIV))
I am at a loss with this passage!
I simply do not understand how someone who professes a faith in Jesus as their personal Lord and Savior could live without showing the love that Jesus has called us to show. I simply do not understand how someone could be so in touch with God's Word where they can recite scripture and not understand the very heart of what they are saying!
If I have the gift of prophecy and can fathom all mysteries and all knowledge, and if I have a faith that can move mountains, but do not have love, I am nothing. If I give all I possess to the poor and give over my body to hardship that I may boast, but do not have love, I gain nothing.
(1 Corinthians 13:2-3 (NIV))
Everything that has been recorded since Genesis shows the overwhelming love that God has for His creation. If you truly stop to reflect on why everything was created to begin with, you realize the the Lord wanted to be in a loving relationship. You realize that, even though He knew what would happen, He gave us free will so that we could choose for ourselves whether we rebel or whether we love and follow.
Think about that!
We have each been given a choice of whether we would rebel, whether we would blindly follow a set of rules, or whether we would follow out of love. Basically, these words to the church in Corinth are targeted to those who simply follow the rules. They look at themselves in much the same way that the Pharisee saw himself in the following parable.
To some who were confident of their own righteousness and looked down on everyone else, Jesus told this parable: "Two men went up to the temple to pray, one a Pharisee and the other a tax collector. The Pharisee stood by himself and prayed: 'God, I thank you that I am not like other people—robbers, evildoers, adulterers—or even like this tax collector. I fast twice a week and give a tenth of all I get.'
(Luke 18:9-12 (NIV))
The Pharisee did not feel love. He did not feel compassion. All that he felt was a attitude of "I'm right and you are wrong!"
Instead of love, he possessed arrogance.
What do you have?
Copyright 1998 – 2023 Dennis J. Smock
Daily Living Ministries, Inc.
https://www.dailylivingministries.org
Support Daily Living Ministries
Subscribe to daily email delivery
Visit us on facebook