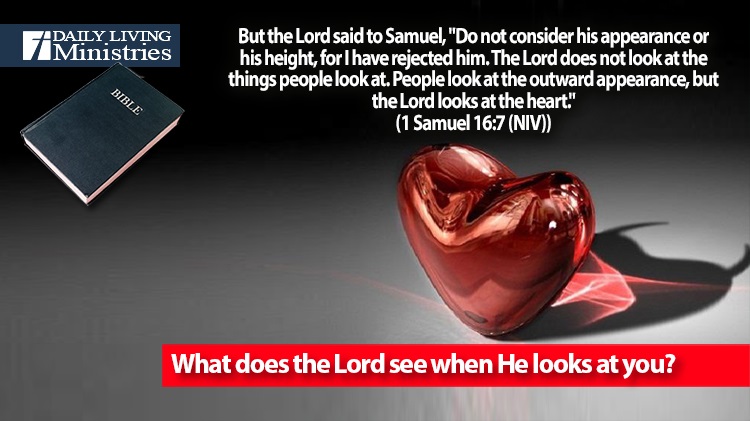 Be Still . . .
Devotionals for Daily Living ©
But the Lord said to Samuel, "Do not consider his appearance or his height, for I have rejected him. The Lord does not look at the things people look at. People look at the outward appearance, but the Lord looks at the heart."
(1 Samuel 16:7 (NIV))
Do you ever wish that you could see people the way that God sees them? Do you ever wonder what others would see if they could see what is inside your heart? In both scenarios, what is in our hearts is made manifest in our actions and our words. It may not be completely accurate, but our actions and words give a hint as to what is truly in our hearts. Outward appearances are not who we are. They are simply a facade that the world sees. They are a facade that we use to try to hide our true selves behind. They are a part of us, but they are not us!
God see the real us!
He sees beyond outward appearances and the idiosyncrasies that we develop to keep our true selves hidden from the world. He sees desires. He sees motives. He sees heartbreak, and He sees the little child who longs to crawl up on daddy's lap. He sees what you hide away in your heart. He knows what you treasure.
For where your treasure is, there your heart will be also.
(Matthew 6:21 (NIV))
He also calls us to give up the treasures we hide in our hearts and treasure Him. He calls us to maturity, to perfection in His image.
Jesus answered, "If you want to be perfect, go, sell your possessions and give to the poor, and you will have treasure in heaven. Then come, follow me."
(Matthew 19:21 (NIV))
If we treasure the Lord, then our hearts should be a storehouse of His love, His righteousness, and His own heart. We should reflect His heart. We should project what is in our hearts so that it is only seen seen by the Lord, but it should be readily visible to all who see us. Before we can do this, we have to have our hearts right with the Lord.
What does the Lord see when He looks at you?
Copyright 1998 – 2021 Dennis J. Smock
Daily Living Ministries, Inc.
http://www.dailylivingministries.org
Support Daily Living Ministries
Subscribe to daily email delivery
Visit us on facebook