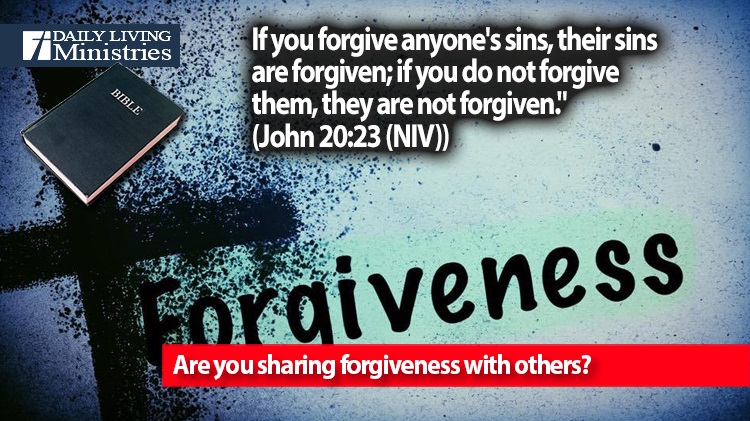 Be Still . . .
Devotionals for Daily Living ©
If you forgive anyone's sins, their sins are forgiven; if you do not forgive them, they are not forgiven."
(John 20:23 (NIV))
These words were spoken by Jesus to His disciples after His resurrection. They had just received the Holy Spirit and were being sent out into the world to spread the Gospel. We are called to do the very same thing!
But, . . .
Did you realize that this power was given to the disciples? Did you realize that as believers in Jesus as your personal Lord and Savior, we are supposed to have this very same power. To clarify, we can't simply walk down the road telling people that their sins are forgiven. They have to take action toward wanting to be forgiven. What we do have is the power to tell people about the redeeming grace that is freely given to all who believe. When they repent and profess a faith in Jesus as their personal Lord and Savior, we have the authority and power to confirm that their decision has indeed resulted in the forgiveness of their sins!
In all of the Old Testament, not a single person had the power and authority to forgive sins. In fact, if these words were spoken, people where accused of blasphemy. Even when Jesus walked the earth, He was accused accordingly.
"Why does this fellow talk like that? He's blaspheming! Who can forgive sins but God alone?"
(Mark 2:7 (NIV))
Think about that.
Who can forgive sins but God alone?
There is so much truth in these words, but the truth was spoken out of misunderstanding, out of arrogance and ignorance. To be honest with you, if I had lived at that time and raised in that tradition, I would probably think the very same thing. They never imagined that the man who was saying your sins are forgiven was truly God among us. Little did they know that a birth about thirty years earlier saw the Lord step into His creation to offer forgiveness of sins. That birth forever changed human history, in fact, it is said that it divided history. As we look forward to Christmas, we must remember that it is not about some jolly fat man bringing presents. It is not about family and friends. It is about the birth of our Lord and Savior, Jesus Christ! Only through that birth and His obedience to the cross, we have forgiveness. The best thing about that forgiveness is the gift that keeps on giving. Once you accept it, you can offer it to others and the value never decreases.
Are you sharing forgiveness with others?
Copyright 1998 – 2022 Dennis J. Smock
Daily Living Ministries, Inc.
https://www.dailylivingministries.org
Support Daily Living Ministries
Subscribe to daily email delivery
Visit us on facebook