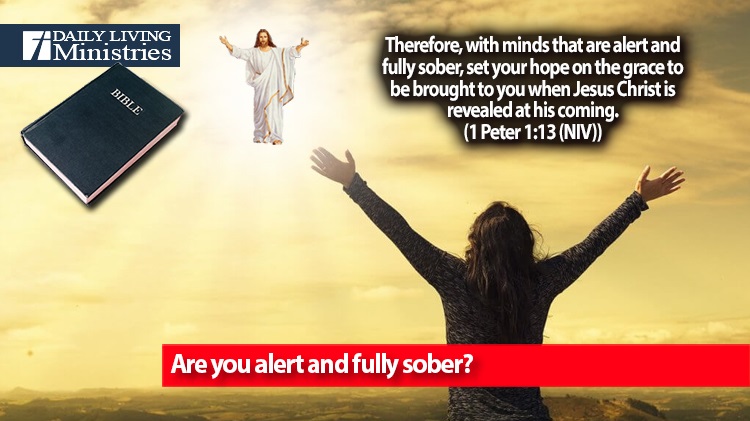 Be Still . . .
Devotionals for Daily Living ©
Therefore, with minds that are alert and fully sober, set your hope on the grace to be brought to you when Jesus Christ is revealed at his coming.
(1 Peter 1:13 (NIV))
Are you looking for Jesus?
In other words, are you alert and fully sober in spite of what the world says that we should be? Think about that for a moment.
What do you spend your time thinking about? What does your bank account say about your priorities? What do your entertainment choices say about your relationship with the world? What does your time spent in God's Word say about your relationship with the Lord? What does your computer or phone time say about your focus, and what does your attitude say about you as a person?
I could go on and on, but it is obvious that if you are human, you fall short of God's idea of righteousness. Even if you have professed a faith in Jesus as your personal Lord and Savior, there is always room for improvement, for maturity in your faith. We are called to be holy, but even on our best day, we fall short!
Perhaps our definition of being holy has been polluted by the world. Too many people think of a self-righteous attitude when asked about being holy. I sometimes wonder if there is God's holiness, which is perfect, and our attempt at being holy, which is flawed drastically by our sinful, fallen nature. We can't seem to get it right. We are not capable of anything more than a failed attempt at fulfilling our interpretation of God's ideal holiness. Enter Jesus! He paved a way for us to exchange our filthy rags for His righteousness, His holiness. Through this action, and our acceptance, we can be considered holy, especially when you consider that one way to look at that word is that it means to be set apart.
Are you set apart?
Do you desire to follow Jesus? If you truly desire to follow Jesus, then you are set apart. You have made a proclamation that you no longer wish to live a sinful, fallen life. You have made a proclamation of faith that you will follow Jesus. Will you be able to walk this path perfectly? Will you keep your eyes focused on Jesus? It is a matter of attitude. It is a matter of priorities. Do you wish to be set apart from the world? I long to follow Jesus. Even on my worst days, I still long to focus on Jesus. There is a quote going around in today's society that sums it up quite nicely.
I would rather stand with God and be judged by the world than stand with the world and be judged by God.
If we can make this commitment, then we are alert and fully sober. We have a hope beyond what this world can offer. We have placed our faith and our hope in Jesus. We deliberately set ourselves apart and faithfully look for His coming. We can decide to be set apart!
Are you alert and fully sober?
Copyright 1998 – 2022 Dennis J. Smock
Daily Living Ministries, Inc.
http://www.dailylivingministries.org
Support Daily Living Ministries
Subscribe to daily email delivery
Visit us on facebook