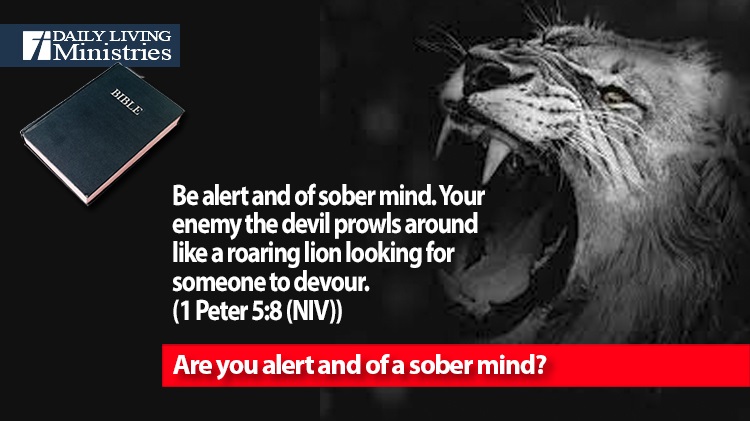 Be Still . . .
Devotionals for Daily Living ©
Be alert and of sober mind. Your enemy the devil prowls around like a roaring lion looking for someone to devour.
(1 Peter 5:8 (NIV))
If you take the time to research things that are happening in the world, then you are probably just as saddened by the overwhelming lack of sober minds as I am. It is very obvious that the enemy has not only been looking, he has been finding many to devour!
Resist him, standing firm in the faith, because you know that the family of believers throughout the world is undergoing the same kind of sufferings.
(1 Peter 5:9 (NIV))
I know many people who claim to possess a faith in Jesus, yet they have abandoned the very things that Jesus said to do. They have abandoned the very reason, to seek and to save the lost, that Jesus said is why He came to this earth. They have replaced it with a social agenda. Is this being alert to the truth of the Gospel and keeping a sober mind in the midst of societal pressures? If we are called to be salt and light to a dying world, shouldn't we be having an impact on the world instead of the world having an impact on us?
Is this how the devil is able to select who he will devour? Does he select people who don't know scripture well enough to know what is truth and what is a lie?
How do you become alert and attain a sober mind?
I would venture to say that both of these come from an in-depth relationship with the Lord; one in which you dive deeply into God's Word and meditate on it day and night. It also comes from a very active life of prayer in which you seek His heart first. Once you know these things, then you will be able to spot the lies of the enemy. You will have put on the full armor of God and will be able to stand firm!
Are you alert and of a sober mind?
Copyright 1998 – 2022 Dennis J. Smock
Daily Living Ministries, Inc.
https://www.dailylivingministries.org
Support Daily Living Ministries
Subscribe to daily email delivery
Visit us on facebook