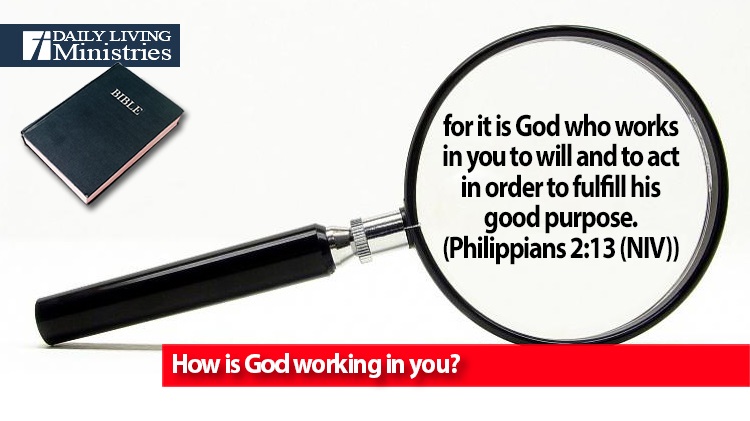 Be Still . . .
Devotionals for Daily Living ©
for it is God who works in you to will and to act in order to fulfill his good purpose.
(Philippians 2:13 (NIV))
Have you felt a tugging at your spirit lately?
If you are like many people who profess a faith in Jesus as your personal Lord and Savior, you feel that God is unfolding something that most of us thought would not come in our lifetime. Do you feel a sense of urgency in sharing the Gospel as events in this world accelerate and converge with the outcome all pointing to the the soon return of Jesus?
In God's grand scheme of things, He can make things unfold without our help, but He would prefer to work through us in such as way that it becomes obvious that the results are not of our own doing. God works in and through His people. He gives us a mission, a calling, that He longs for us to fulfill. He wants us to draw closer to Him as we help spread the Gospel.
If you profess a faith in Jesus, then you have opened the door to your life in such a way that the Lord should be working in you. We are all called to help spread the Gospel, especially "for such a time as this."
How do you feel that God is working in you? Are you filled with compassion for the lost? Are you called to share your faith with your family and friends? Are you heartbroken because good is now being called evil and evil is now being called good? What is God working in you that will bring you to act, to respond to His calling, so that you fulfill His good purpose? Does something weigh heavily on your heart? God has given you a burden, and an assignment, to match the burden that He has for the very same thing. Go to the Lord in prayer and ask for wisdom to be obedient to that burden, to that calling, so that you may respond as He longs for you to respond.
God desires to work in each of us, but it is up to us to be willing to respond to that still, small voice. We must be willing and able to discern that tugging and allow God deeper into our lives so that He will manifest His works even when we are not capable of such things on our own.
With this front and center, I have but one more thing to ask?
How is God working in you?
Copyright 1998 – 2021 Dennis J. Smock
Daily Living Ministries, Inc.
http://www.dailylivingministries.org
Support Daily Living Ministries
Subscribe to daily email delivery
Visit us on facebook