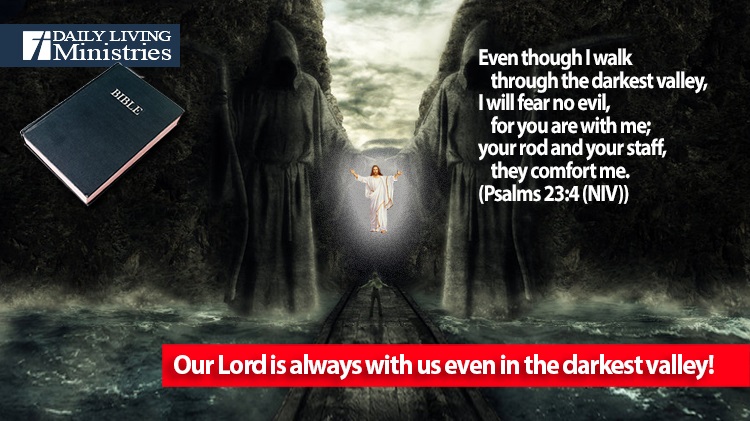 Be Still . . .
Devotionals for Daily Living ©
Even though I walk
     through the darkest valley,
I will fear no evil,
     for you are with me;
your rod and your staff,
     they comfort me.
(Psalms 23:4 (NIV))
I actually had two completely different passages over halfway completed, when something made me completely shift gears. I was led to this passage and I feel that many people need to work through this passage themselves.
Things in this world are dark and getting darker. Evil is being called good and good is being called evil. Each of us who professes a faith in Jesus as our personal Lord and Savior will come under attack, for it is said that the enemy only targets those who are doing what the Lord desires. If you are not doing anything, or if you are desiring evil, the enemy will leave you alone. With that in mind, if you profess a faith in Jesus, if you are serious about sharing the Gospel and proclaiming the truth that is found only in Jesus, then you will come under attack. The enemy looks for things and when he can't find anything, he will use the hidden desires of others to lay blame and bring the attack.
Sadly, these attacks will come from directions that you never expected!
When they come, and they will come, do not give in to the sinful human nature and lash out at those who are the physical manifestation of the attack.
For our struggle is not against flesh and blood, but against the rulers, against the authorities, against the powers of this dark world and against the spiritual forces of evil in the heavenly realms.
(Ephesians 6:12 (NIV))
We must remember that we have a champion as our Lord and Savior. We must surrender it all to Him!
The Lord will fight for you; you need only to be still."
(Exodus 14:14 (NIV))
When you find yourself walking through the darkest valley, never lose sight of the fact that you have the God of all creation walking with you. He is your Lord. He is your Savior. There is no power in heaven greater than He. There is no power on earth greater than He. There is no power in hell greater than He.
What, then, shall we say in response to these things? If God is for us, who can be against us?
(Romans 8:31 (NIV))
Our Lord is always with us even in the darkest valley!
Copyright 1998 – 2023 Dennis J. Smock
Daily Living Ministries, Inc.
https://www.dailylivingministries.org
Support Daily Living Ministries
Subscribe to daily email delivery
Visit us on facebook