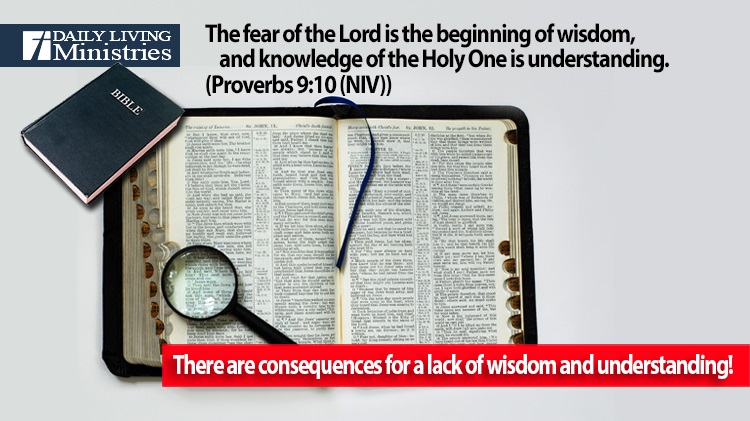 Be Still . . .
Devotionals for Daily Living ©
The fear of the Lord is the beginning of wisdom,
     and knowledge of the Holy One is understanding.
(Proverbs 9:10 (NIV))
Do you think yourself to be wise?
What type of wisdom do you seek?
There are basically two types of wisdom that we can seek after. One is earthly wisdom, or should I say earthly knowledge. I have seen too many people with so many advanced degrees but no common sense, no wisdom. The other type of wisdom is spiritual, godly and eternal wisdom. I have seen people whom the world shuns because they do not have the right credentials, the right education, the right knowledge, but they are wise because of what they do possess! Please do not misunderstand me. Knowledge is good. Education is good, but these without righteousness and wisdom will result in an arrogance, an ego, a proud character that will make you feel superior to those around you. It will make you feel that there is no God.
The fool says in his heart,
     "There is no God."
They are corrupt, their deeds are vile;
     there is no one who does good.
(Psalms 14:1 (NIV))
Arrogance and pride have caused the downfall of many, including Satan. This arrogance and pride are a rebellion against God. They are used to elevate themselves above God. This is what happened in the Garden of Eden when Adam and Eve were tricked. All of humanity fell into a sinful existence from which we could not escape. God, in His infinite wisdom, came up with a plan of redemption. He sent His Son, Jesus, to be an atoning sacrifice for our sins. If we accept this gift of grace and mercy, our names are recorded in the Lamb's book of life. This confession, this entry, gives us eternal salvation. This is the only wisdom and understanding that truly mean anything, for they have an eternal impact.
Anyone whose name was not found written in the book of life was thrown into the lake of fire.
(Revelation 20:15 (NIV))
I don't know about you, but this does not sound like something that I want to experience. It serves as a reminder that we must all pay attention to our pursuit of wisdom and understanding. It also helps to point out the one thing that we must all recognize.
There are consequences for a lack of wisdom and understanding!
Copyright 1998 – 2023 Dennis J. Smock
Daily Living Ministries, Inc.
https://www.dailylivingministries.org
Support Daily Living Ministries
Subscribe to daily email delivery
Visit us on facebook