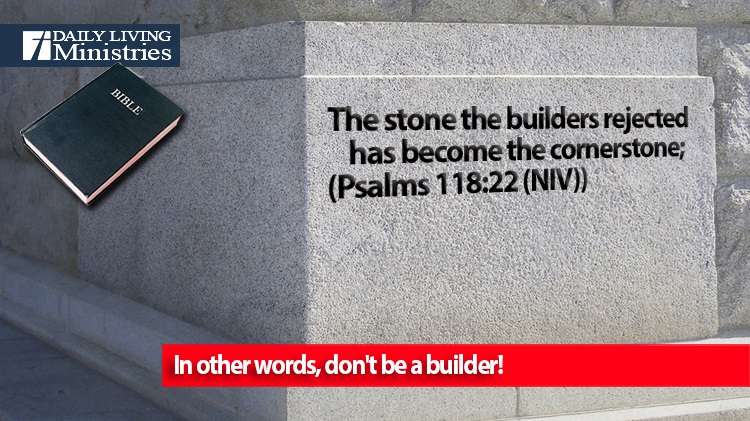 Be Still . . .
Devotionals for Daily Living ©
The stone the builders rejected
     has become the cornerstone;
(Psalms 118:22 (NIV))
People longed for and anticipated this prophecy being fulfilled for centuries. When it was fulfilled, the religious leaders did not recognize Him because they did not recognize how the scriptures were to unfold. In essence, they had built up their own interpretation to the point that it no longer represented the truth. When the truth stood right in front of them, they did not recognize Him.
I find it saddening that far too often people will be searching for something and when it is right before them, they do not recognize that what they have is what they longed for. When Luke wrote Acts, he alluded to this by referencing the passage from Psalms.
then know this, you and all the people of Israel: It is by the name of Jesus Christ of Nazareth, whom you crucified but whom God raised from the dead, that this man stands before you healed. Jesus is
     "'the stone you builders rejected,
          which has become the cornerstone.'
Salvation is found in no one else, for there is no other name under heaven given to mankind by which we must be saved."
(Acts 4:10-12 (NIV))
We often attempt to build our own truths. This is especially true in our worship and our faith. If you don't believe that this happens, all that you have to do is take a long hard look at all of the man-made denominations. We are so intent on building up our man-made rituals, practices and ideologies that we often miss what is the common foundation, what is the common cornerstone for what we profess to believe.
It is my prayer that we can look beyond the man-made rituals and return completely to the truth that is only found in Jesus. We must tear down any man-made stumbling blocks that we have put in our way. We must strive to only seek God without any man-made add ons.
In other words, don't be a builder!
Copyright 1998 – 2023 Dennis J. Smock
Daily Living Ministries, Inc.
https://www.dailylivingministries.org
Support Daily Living Ministries
Subscribe to daily email delivery
Visit us on facebook