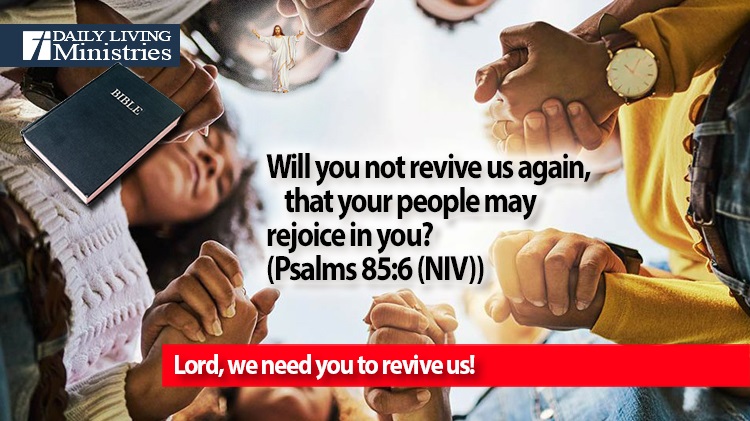 Be Still . . .
Devotionals for Daily Living ©
Will you not revive us again,
     that your people may rejoice in you?
(Psalms 85:6 (NIV))
Do you ever feel overwhelmed with the weight of the world?
Perhaps it is health related. Perhaps it is finances. Perhaps it is a job, or lack thereof. Each of us have many potential reasons to feel overwhelmed.
But, . . .
Each of us has a singularly amazing reason to feel joy even in the midst of all that we may face. If you have professed a faith in Jesus as your personal Lord and Savior, you simply need to shift your focus from what the world is sending your way to what Jesus has done for you to overcome the world.
Each of us needs to have our faith revived periodically. We may profess a faith in Jesus, but we are only human and human nature is easily distracted by the physical world. Currently, there is so much going on in this sinful, fallen world that we can lose sight of the glorious promises that we have been given. Some people are saying that what we have been seeing on many college campuses and other various places are not revival, but I want to present some questions for your consideration.
Are people turning to the Lord?
Are people rejoicing in the Lord?
Are people repenting of their sins?
Revival is a personal increase in faith, and since it is personal, we can't truly know the hearts of those who are involved. With that in mind, I want you to consider these words.
"Master," said John, "we saw someone driving out demons in your name and we tried to stop him, because he is not one of us."
"Do not stop him," Jesus said, "for whoever is not against you is for you."
(Luke 9:49-50 (NIV))
In other words, those who are involved may not be part of your group, but as long as they are truthfully lifting up the name of Jesus, we should not be quick to condemn. We may even find that they are seeing things anew. We need to be cautious to not become Pharisees simply because things go against our preconceived rituals. With that said, I have but one thing to say.
Lord, we need you to revive us!
Copyright 1998 – 2023 Dennis J. Smock
Daily Living Ministries, Inc.
https://www.dailylivingministries.org
Support Daily Living Ministries
Subscribe to daily email delivery
Visit us on facebook