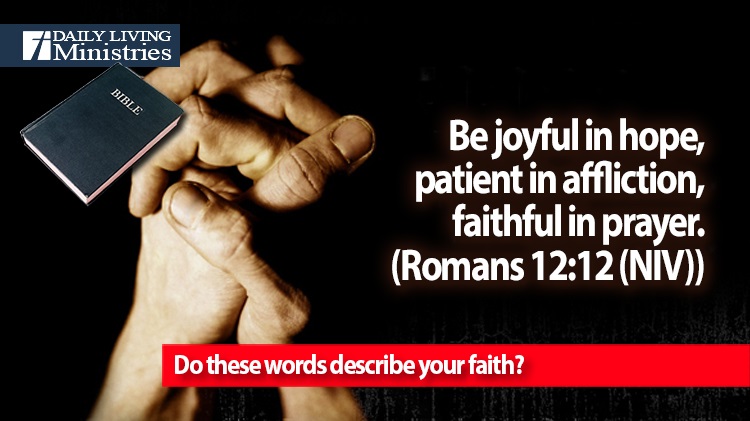 Be Still . . .
Devotionals for Daily Living ©
Be joyful in hope, patient in affliction, faithful in prayer.
(Romans 12:12 (NIV))
I have read this passage numerous times, and each time that I have read it, I have stopped to reflect on my life and whether I am living up to these commands.
The other day, I read this passage in the Complete Jewish Bible translation and the meaning took on so much more. I have often alluded to how different translators will use different words that mean the same thing, but in this particular instance, I found myself stopped in my tracks. The words came to life! It may simply be the results of reading this with different words, after all, we are creatures of habit. When one translation becomes so familiar that you take it for granted, a fresh perspective is often needed.
Rejoice in your hope, be patient in your troubles, and continue steadfastly in prayer.
(Romans 12:12 (CJB))
God's Word is so much more than any language can accurately convey. Even our own conversations with each other utilize different words to convey the same things. For example, if you ask a group of individuals to all explain the very same sunset, you will receive as many different descriptions as there are people.
In reflecting upon these new words with the same meaning as those that I am familiar with, I realized that we all need a fresh perspective at times. This is especially the case even with what we know to be the truth. This does not change the truth. It simply enhances our understanding of the truth by making us stop and discover anew what we have already known.
After reading this translation, I immediately prayed that these words truly do describe my faith! Perhaps we all need to come to this same conclusion as often as we read Romans 12:12.
With that last statement that I just put forward, I have but one question for you to prayerfully consider.
Do these words describe your faith?
Copyright 1998 – 2023 Dennis J. Smock
Daily Living Ministries, Inc.
https://www.dailylivingministries.org
Support Daily Living Ministries
Subscribe to daily email delivery
Visit us on facebook