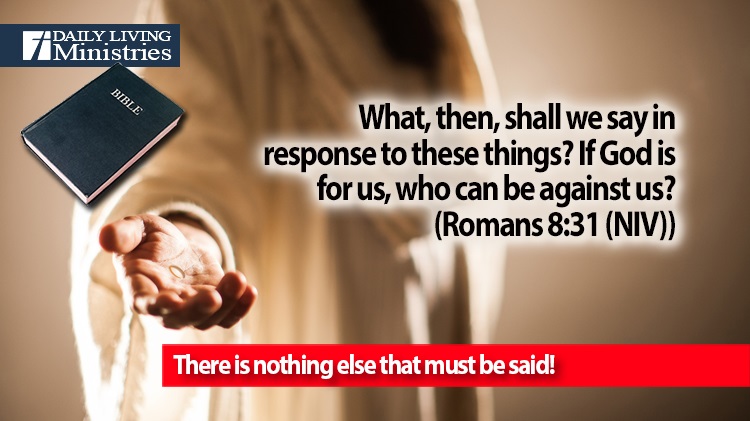 Be Still . . .
Devotionals for Daily Living ©
What, then, shall we say in response to these things? If God is for us, who can be against us?
(Romans 8:31 (NIV))
When you face the things that this world sends your way, how do you respond?
Do you cower in fear? Are you more afraid of the things of this world than you care to admit? To be perfectly honest with you, it is extremely easy to fall into this trap. It is extremely easy to see the things of this world and be so overwhelmed that you forget the very promises that made you profess a faith in Jesus to begin with.
If you profess a faith in Jesus as your personal Lord and Savior, you may find yourself asking how is this even possible.
Far too many people who profess a faith in Jesus take their eyes off of Jesus. They feel comfortable in their faith and soon find themselves neglecting the still, small voice. They neglect to be still in His presence. They neglect to make their faith their priority. They claim Jesus as their Savior, but don't rely on Him in their daily lives.
In other words, they no longer place the Lord first!
They see the world and look at their shortcomings and panic. They never look up. They never turn to the Lord in order to rely on His strength.
Have you ever been guilty of this?
It is time to be honest with yourself, for I know that I have been guilty far more times than I care to admit.
We must remember, and cling to the fact, that through the atoning Blood of Jesus, our sins have been forgiven. We have been made righteous in the eyes of God. We are called sons and daughters of God! Have you ever known a loving father who is against his own children?
There is nothing else that must be said!
Copyright 1998 – 2023 Dennis J. Smock
Daily Living Ministries, Inc.
https://www.dailylivingministries.org
Support Daily Living Ministries
Subscribe to daily email delivery
Visit us on facebook