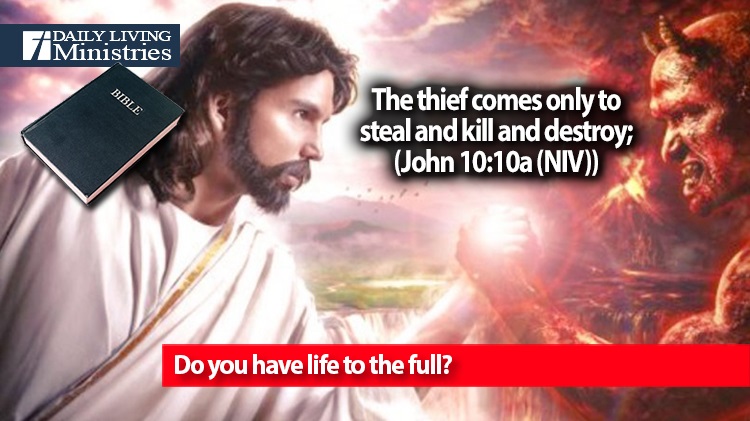 Be Still . . .
Devotionals for Daily Living ©
The thief comes only to steal and kill and destroy;
(John 10:10a (NIV))
With the current state of things in this world, it would appear that the thief is working overtime!
If you don't believe this, then all that you have to do is turn on the television, go to a grocery store, order something and expect it to be delivered on time, look at the current state of politics in almost every country, and the biggest one – expect common sense to rule the day. Add to these the underlying cause of all of these where people are calling good evil and evil good, then you should see exactly what I am talking about.
Ever since the fall from grace in the Garden of Eden, the enemy, the thief, has been slowly working his plan.
But, God . . .
I just love the but God moments, for He turns what the enemy intends for evil and turns it to good for those who love Him!
God has a plan to combat what the thief has stolen. Because of this thief that we know as Satan, humanity has been turned into something that God never intended. Satan stole our heritage. He stole our relationship with God the Father. The thief turned us into sinners and outcasts. Because of this, we were cut off from direct access to God.
for all have sinned and fall short of the glory of God,
(Romans 3:23 (NIV))
God's plan is magnificent. Sin needs to be atoned for, but all of our feeble attempts could never be good enough, so God did something amazing!
For God so loved the world that he gave his one and only Son, that whoever believes in him shall not perish but have eternal life.
(John 3:16 (NIV))
God sent His one and only Son to be the perfect atonement so that what the thief had stolen could be redeemed. In the words of Jesus, we have the rest of the glorious story.
The thief comes only to steal and kill and destroy; I have come that they may have life, and have it to the full.
(John 10:10 (NIV))
Do you have life to the full?
Copyright 1998 – 2023 Dennis J. Smock
Daily Living Ministries, Inc.
https://www.dailylivingministries.org
Support Daily Living Ministries
Subscribe to daily email delivery
Visit us on facebook