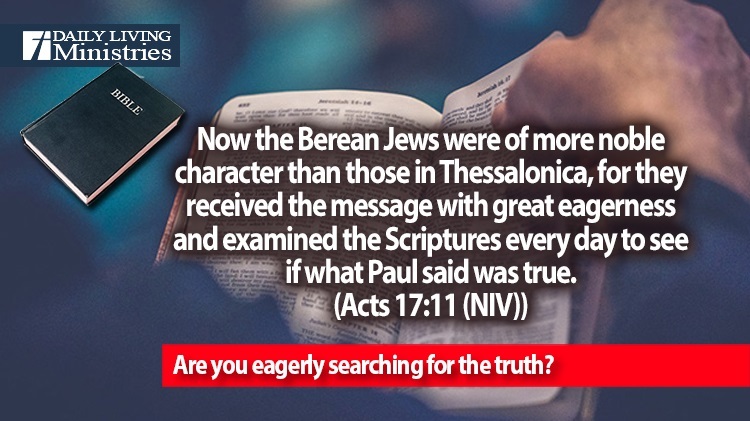 Be Still . . .
Devotionals for Daily Living ©
Now the Berean Jews were of more noble character than those in Thessalonica, for they received the message with great eagerness and examined the Scriptures every day to see if what Paul said was true.
(Acts 17:11 (NIV))
What do you search for?
Do you search for perfect people attending a perfect church? If so, then you will always be disappointed. You will never find it. I want to let you in on a little secret. If you did happen to find it, the very minute that you walk through the doors, it would no longer be perfect. That is the state of humanity ever since the fall from grace in the Garden of Eden. The last that I checked, everyone that I know is human, and we all suffer from the same issue.
for all have sinned and fall short of the glory of God,
(Romans 3:23 (NIV))
It has been said that because of the fall from grace, we all have a God shaped hole in our lives that we try to fill with anything and everything that we can think of. We search tirelessly for something to fill this void.
If you are searching for something to fill your void, don't look to other imperfect people who are not capable of perfect truth. Be like the Berean Jews and examine the Scriptures EVERY day. Find like-minded individuals who also examine the Scripture every day. Surround yourself with people who are searching God's Word for His truth. Surround yourself with people who will accept nothing less than His truth. Surround yourself with people who cling to His truth as manifested through Jesus!
For God so loved the world that he gave his one and only Son, that whoever believes in him shall not perish but have eternal life. For God did not send his Son into the world to condemn the world, but to save the world through him. Whoever believes in him is not condemned, but whoever does not believe stands condemned already because they have not believed in the name of God's one and only Son.
(John 3:16-18 (NIV))
If you profess a faith in Jesus as your personal Lord and Savior, you have recognized the truth that the Berean Jews searched for. How far you go in your understanding is up to you. Professing that Jesus is your personal Lord and Savior is not the end of your faith journey. It is the beginning of a lifelong path that starts the moment you accept Jesus into your heart. There will be a lifetime of searching the Scriptures and recognizing that Jesus is in every word.
"Ask and it will be given to you; seek and you will find; knock and the door will be opened to you. For everyone who asks receives; the one who seeks finds; and to the one who knocks, the door will be opened.
(Matthew 7:7-8 (NIV))
There will be many times that you will ask for His guidance. There will be many times that you seek His presence. There will be many times that you will knock in hopes of going straight into His throne. We have the assurance that if we search for His truth, we will find it. It is not found by looking to imperfect people. Look to a perfect, loving Father, and boldly approach His throne because your sins have been cleansed by the Blood of the Lamb!
Are you eagerly searching for the truth?
Copyright 1998 – 2023 Dennis J. Smock
Daily Living Ministries, Inc.
https://www.dailylivingministries.org
Support Daily Living Ministries
Subscribe to daily email delivery
Visit us on facebook