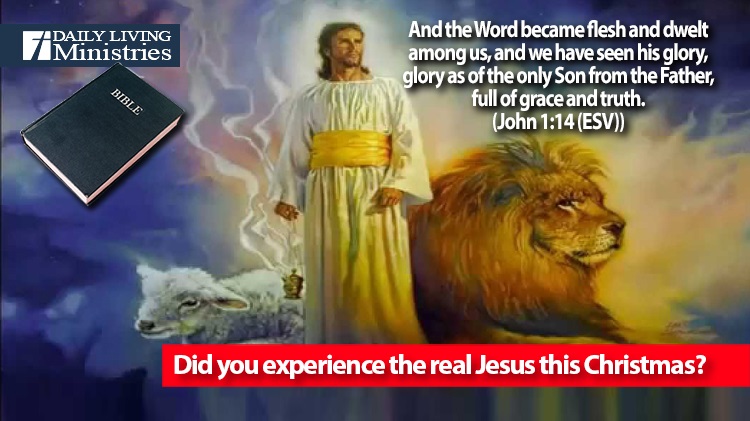 Be Still . . .
Devotionals for Daily Living ©
And the Word became flesh and dwelt among us, and we have seen his glory, glory as of the only Son from the Father, full of grace and truth.
(John 1:14 (ESV))
We just celebrated Christmas, but how many people actually celebrated the birth of Jesus?
Too many people simply go through the motions where they partake only of society's consumer driven spending frenzy. They buy gifts for each other, but fail to realize why this tradition started. They fail to recognize the true reason for the season and the greatest gift that was ever given.
It all started with God's perfect plan of redemption! We couldn't save ourselves from the consequences of the fall from grace. We inherited our sinful nature. We we helpless, hopeless and lost in a sinful, dying world, and God knew it.
for all have sinned and fall short of the glory of God,
(Romans 3:23 (ESV))
Jesus stepped out of heaven to be born and live as one of us. He came to live the perfect, sinless life that we could never live. He came to offer His life of righteousness for our lives of sinfulness. He gave each of us the opportunity to receive the greatest gift of all, and all that we have to do is accept that gift.
That gift is priceless!
That gift is beyond measure!
That gift is eternal life through His righteousness!
That is the real reason for our Christmas celebrations!
That is the best gift that we can receive until we are able to see Jesus face to face.
We must look beyond the boxes, beyond the lights, and beyond the celebrations to experience the real reason for the season. We must long to experience Jesus not only on Christmas day, but on every day of our lives.
Did you experience the real Jesus this Christmas?
Copyright 1998 – 2022 Dennis J. Smock
Daily Living Ministries, Inc.
https://www.dailylivingministries.org
Support Daily Living Ministries
Subscribe to daily email delivery
Visit us on facebook