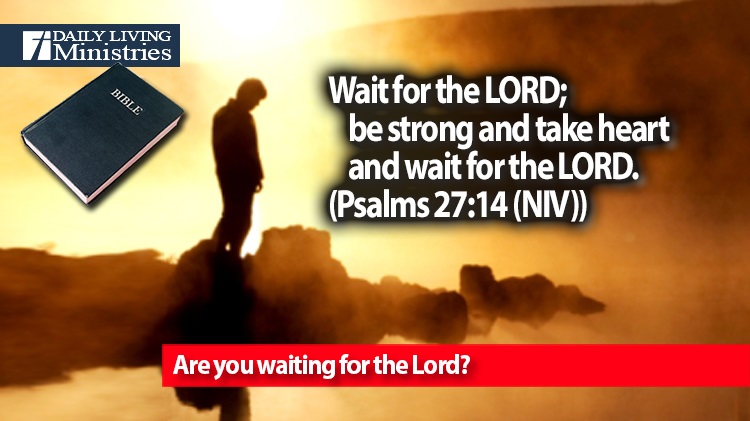 Be Still . . .
Devotionals for Daily Living ©
You may have noticed that I missed a day. I apologize for that, but it is extremely difficult to do anything when both hands are bandaged. To be honest with you, I can't even open a water bottle right now. Due to this, I will be taking a break in order to heal.
---
Wait for the LORD;
     be strong and take heart
     and wait for the LORD.
(Psalms 27:14 (NIV))
God is calling to each of us. He has something unique for each life that He has created. In our human inadequacies, we rush God's plans. We try to anticipate and put our own desires into what God has called us to. We try to tell God what He should have us do with our life. We try to be our own little gods, each of us attempting to run our life to our own version of perfection when we cannot even spend one hour in God's perfection.
Perhaps another often quoted verse from the Psalmist can put it in perspective.
Be still, and know that I am God
(Psalms 46:10a(NIV))
In order for us to fully understand that we must wait and do things in God's time, we must know God. We must know the Truth and not the version of God that we have confined to the little box that we have built for Him. This box is our comfort zone. We try to limit God and what He can do. We try to impose human and physical limitations on God so that we, in our limited understanding, can try to understand Him.
We create God in our image!
This concept is dangerous. We, the creation, cannot create. All we can do is imitate. At best, all we can do is reflect the light that is God. If we try to create God in our image, then we have sinned, especially when you realize that sin is anything that we do that keeps us from God. When we create God in our image, we are keeping ourselves from the truth that is God by limiting who He is.
Be still, and know grace.
Be still, and know mercy.
Be still, and know God.
Are you waiting for the Lord?
Copyright 1998 – 2022 Dennis J. Smock
Daily Living Ministries, Inc.
https://www.dailylivingministries.org
Support Daily Living Ministries
Subscribe to daily email delivery
Visit us on facebook